Implementation of Database Synchronization Features in Financial Monitoring Applications in Areas With Limited Internet Networks
Keywords:
Mobile Apps, Synchronization, limited internet connection
Abstract
Tobacco farmers in Central Java often have commercial relationships with many parties. One of the actions of the process is the process of accounts payable between farmers and traders. The difficulty that arises from this process is when recording debt data every day. Often farmers in these areas still use paper as a medium to store debt data. Of course, this can be a problem when the paper is lost and the debt data that is owned is also lost. So it is proposed to make a debt recording application on a mobile device so that it is easy to carry and the stored data is not easily lost. However, a new problem arises, namely when the mobile device is not connected to the internet network whether debt data can still be stored, seeing that the area where the farmer is located does not have an adequate internet network.
Based on the problems encountered, it is proposed to create a synchronization algorithm that can handle when the mobile device is not connected to the internet network. The data will be synchronized on the website application created, so that the data entered by farmers when they are not connected to the internet network can be stored properly without fear of losing the debt data.
Tests are carried out using white box testing and actual testing. For the white box testing that was tested on the algorithm that has been made, the results show that the algorithm created has a low risk level and a 5 percent improvement probability. For the actual tests carried out, based on the results obtained, each test scenario can be tested well and produce good results. So it can be concluded that the algorithm that has been made is feasible to be applied to mobile devices.
References
S. Kemp, "DIGITAL 2021: INDONESIA," 11 February 2021. [Online]. Available: https://datareportal.com/reports/digital-2021-indonesia.
Ş. Kocakoyun, "Developing of Android Mobile Application Using Java and Eclipse:," International Journal Of Electronics, Mechanical And Mechatronics Engineering, vol. 7, no. 1, p. 18, 2017.
N. Hansson dan T. Vidhall, "Effects On Performance And Usability For Cross-Platform Application Development Using React Native," p. 93, 2016.
R. Payne, Beginning App Development with Flutter: Create Cross-Platform, Dallas: Apress, 2019.
G. Wells, "The Future of iOS Development: Evaluating the," p. 32, 2015.
W. Wu, "React Native vs Flutter, cross-platform mobile application frameworks," p. 34, 2018.
Y. D. Setiyawati, R. R. Isnanto dan K. T. Martono, "Pembuatan Aplikasi Antar-Jemput Laundry Berbasis Web Service pada Platform Android," Jurnal Teknologi dan Sistem Komputer, pp. 150-162, 2016.
I. G. N. A. WICAKSANA, "Sinkronisasi Basis Data Sql Dengan Basis Data Nosql Menggunakan Data Adapter Dengan Pendekatan Query Direct Access," p. 130, 2017.
D. . K. Pamuji, M. Yunus dan D. W. Widarti, "Implementasi Sinkronisasi Database Berbasis RESTful Web Services pada Aplikasi Presensi," Journal of Information Technology and Computer Science, p. 8, 2019.
M. B. Kekgathetse dan K. Letsholo, "A Survey On Database Synchronization Algorithms For Mobile Device," Journal of Theoretical and Applied Information Technology, vol. 86, no. 1, p. 9, 2016.
S. K. Jha dan S. Sebastian, "An Algorithm To Synchronize The Local Database with Cloud," International Journal of Innovative Research in Advanced Engineering, vol. 4, no. 4, pp. 22-27, 2017.
D. Ratnasari, D. B. Qur'ani dan Apriani, "Sistem Informasi Pencarian Tempat Kos Berbasis Android," Jurnal Ilmiah Bidang Teknologi Informasi dan Komunikasi, p. 14, 2018.
A. Setiyadi dan T. Harihayati, "PENERAPAN SQLITE PADA APLIKASI PENGATURAN WAKTU UJIAN," p. 6, 2014.
N. Chatterjee, S. Chakraborty, A. Decosta dan D. A. Nath, "Real-time Communication Application Based on Android Using Google Firebase," International Journal of Advance Research in, p. 6, 2018.
M. E. Khan dan F. Khan, "A Comparative Study of White Box, Black Box and Grey Box Testing Techniques," International Journal of Advanced Computer Science and Applications, p. 4, 2012.
Jindal, R, "Review Paper On Database Synchronization Between Local And Server," International Journal of Engineering Sciences and Research Technology, 2016.
A. Kaur, A, "Synchronized Algorithm for Database and Image Processing Between Client and Server," International Journal of Computer Science and Information Technologies, 2014.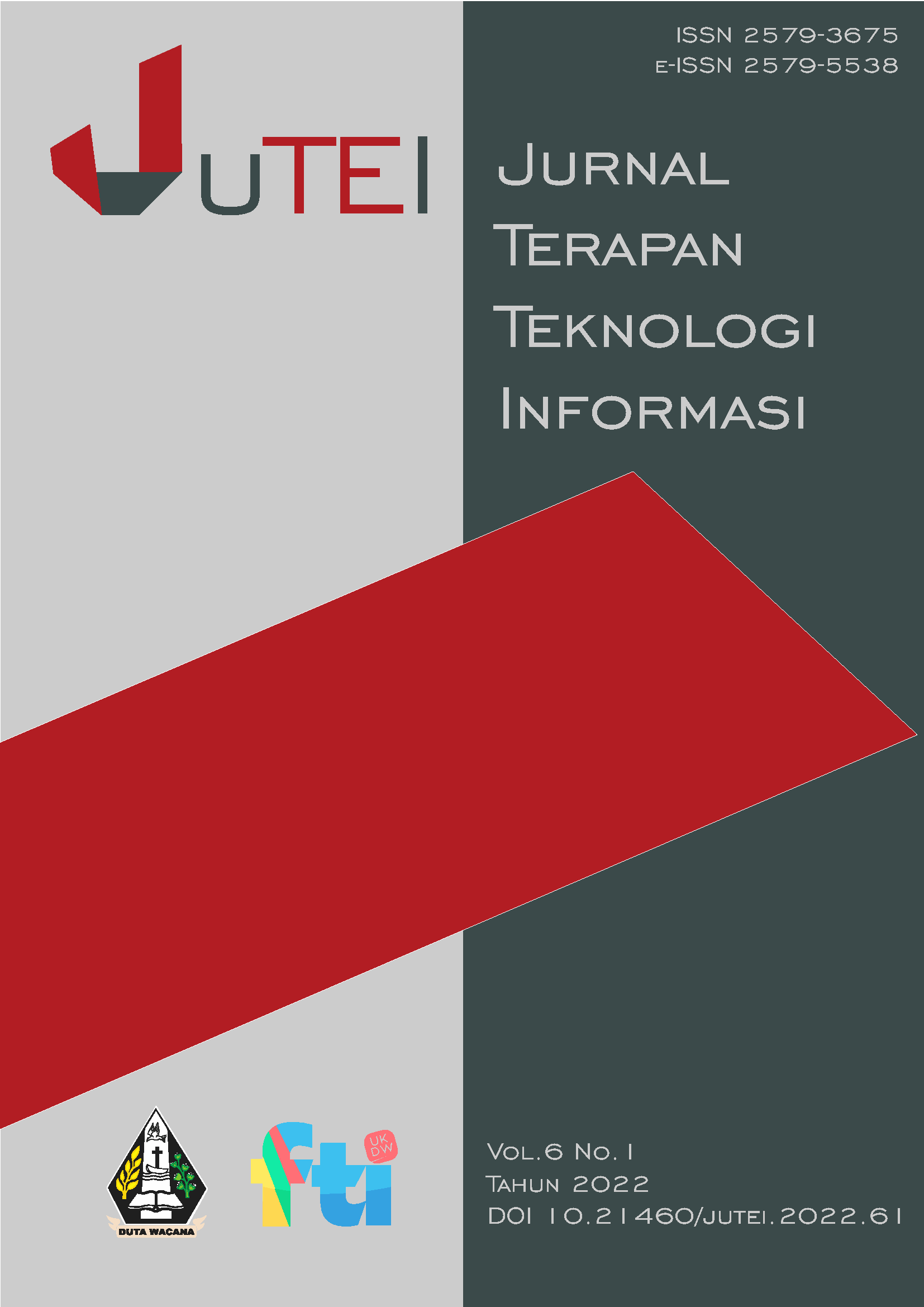 Downloads
How to Cite
[1]
A. Setiawan, D. Sebastian, and K. Adi Nugraha, "Implementation of Database Synchronization Features in Financial Monitoring Applications in Areas With Limited Internet Networks", JUTEI, vol. 6, no. 1, pp. 63–74, Apr. 2022.
License
Copyright (c) 2022 Aldi Setiawan, Danny Sebastian, Kristian Adi Nugraha
This work is licensed under a Creative Commons Attribution-NonCommercial-NoDerivatives 4.0 International License.
Authors who publish articles in JUTEI agree on the following rules:
1. The author grants non exclusive royalty free rights, and is willing to publish articles online and complete (full access). With such rights JUTEI reserves the right to save, transfers, manages in various forms, maintains and publishes articles while keeping the author's name as the copyright owner.
2. Each author contained in the article has contributed fully to the substance and intellectual, and is accountable to the public. If in the future there is a copyright infringement notification then this will be responsibility of the author, not JUTEI.