ANALISIS SERANGAN WEB PHISHING PADA LAYANAN E-COMMERCE DENGAN METODE NETWORK FORENSIC PROCESS
Keywords:
Cybercrime, e-commerce, phishing, wireshark
Abstract
Internet menyediakan fasilitas di seluruh dunia untuk menjangkau pelanggan tanpa batasan pasar, termasuk e-commerce. Akibatnya, jumlah pelanggan yang bergantung pada internet untuk pembelian telah meningkat secara dramatis. Potensi serangan cybercrime seperti phishing adalah kegiatan kriminal yang berusaha mendapatkan informasi yang sensitif secara ilegal. Informasi sensitif dapat berupa nama pengguna, kata sandi, dan rincian kartu kredit. Maka perlu untuk menganalisis data non-volatile yang diperoleh secara nyata dan bersumber dari forum Facebook. Teknik akuisisi data menggunakan pemrosesan data jaringan hidup forensik menggunakan alat Network Protocol Analyzer, yaitu Wireshark. Hasil investigasi dan analisis dirangkum dalam bentuk tabel. Keberhasilan penyelidikan dapat ditemukan di sumber serangan dalam bentuk Alamat IP, phishing URL, protokol DNS, IMAP, nama pengguna, kata sandi, FTP, SMTP, dan HTTP. Analisis ini memberikan rekomendasi tentang cara menghindari serangan web phishing.
References
[1] E.-C. University, "4 Reasons Why You Should Consider Cybersecurity as a Profession," 5 December 2017. [Online]. Available: https://www.eccu.edu/4-reasons-why-you-should-consider-cybersecurity-as-a-profession/. [Diakses 13 September 2018].
[2] Singh, "Online Frauds in Banks with Phishing," Journal of Internet Banking and Commerce, p. 4, 2007.
[3] APWG, "Phishing Activity Trends Report," Wasington D.C, 2018.
[4] I. Radiansyah, Candiwan dan Y. Priyadi, "Analisis Ancaman Phishing dalam Layanan Online Banking," UMM Scientific Journals, pp. 1-14, 2016.
[5] B. M. Susanto, "Identifikasi Website Phishing dengan Seleksi Atribut Berbasis Korelasi," SENTIKA, 2016.
[6] G. Liu, B. Qiu dan L. Wenyin, "Automatic Detection of Phishing Target from Phishing Webpage," Internation Conference on Pattern Recognation, 2010.
[7] Singh, "Network Forensics," Indian Computer Response Team (CERT-In) Department of Information Technology, 2009.
[8] Pretty, Emmanuel dan Joshi, "Forensic Analysis of Email Date and Time Spoofing," Proceedings of the 2012 Third International Conference on Computer and Communication, 2012.
[9] P. McLeod, Sistem Informasi Manajemen, Jakarta: Salemba, 2008.
[10] S. C. Thomson, Discovering Computer, Jakarta : Salemba, 2008.
[11] W. Jony, Internet Marketing for Beginner, Jakarta: PT Alex Media Komputindo, 2010.
[12] A. Kurniawan, Network Forensic Menggunakan Wireshark, Yogyakarta: Andi, 2012.
[13] Chriscelda, "Network Forensik," 16 November 2014. [Online]. Available: https://fingersings.wordpress.com/2014/11/16/network-forensik/. [Diakses Desember 2017].
[14] A. Singh, Instant Wireshark Starter, Birmingham - Mumbai: Packt Publishing, 2013.
[15] B. Ruchandani, M. Kumar, A. Kumar, K. Kumari, A. K. Sinha dan P.Pawar, "Ekperimentation in network forensics analysis," dalam Proceedings of the Term Paper Series under CDAC-CNIE Bangalore, India, 2006.
[16] F. Sulianta, Komputer Forensik, Jakarta: Elex Media Komputindo, 2008.
[17] M. N. Al-Azhar, Digital Forensic: Panduan Praktis Investigasi Komputer, Jakarta: Salemba Infotek, 2012.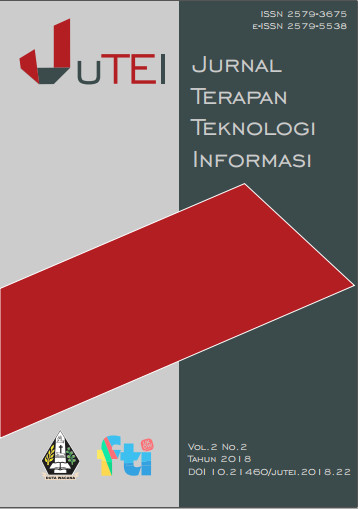 Downloads
How to Cite
[1]
A. Ginanjar, N. Widiyasono, and R. Gunawan, "ANALISIS SERANGAN WEB PHISHING PADA LAYANAN E-COMMERCE DENGAN METODE NETWORK FORENSIC PROCESS", JUTEI, vol. 2, no. 2, pp. 147–157, Feb. 2019.
License
Authors who publish articles in JUTEI agree on the following rules:
1. The author grants non exclusive royalty free rights, and is willing to publish articles online and complete (full access). With such rights JUTEI reserves the right to save, transfers, manages in various forms, maintains and publishes articles while keeping the author's name as the copyright owner.
2. Each author contained in the article has contributed fully to the substance and intellectual, and is accountable to the public. If in the future there is a copyright infringement notification then this will be responsibility of the author, not JUTEI.