Pembuatan Antarmuka Website Desa Jambuwuluk Menggunakan Metode User Centered Design
Abstract
The information technology used in Jambuluwuk Village Office consists of computer devices that utilize a system provided by the village government to assist in the administrative services of Jambuluwuk Village. This system can be accessed easily by the community and village staff anytime and anywhere through the village's website at https://jambuluwuk.online/, using an internet connection. Despite the positive aspects of the website, there are some issues identified on the Jambuluwuk Village website. One of the problems is the inconsistent display in one of the menus, namely the Village Government menu, which discusses the organizational structure of the village administration. The organizational structure is important information for the residents, particularly the Jambuluwuk Village staff. Currently, the Village Government menu only displays the names of the village staff without utilizing charts or structures. This makes it difficult for the village staff to understand the organizational structure as there is no information explaining the hierarchy or levels of each division in Jambuluwuk Village.
During the design and implementation of the Jambuluwuk Village website, the researcher utilized the User-Centered Design (UCD) method. This was done because the researcher focused on user requirements, and the method was optimized to fulfill the needs and desires of end users. Subsequently, the researcher conducted testing using the System Usability Scale (SUS) method.
The website of Jambuluwuk Village has two actors: the admin and the users (village residents). The website is built using PHP, the Laravel framework, XAMPP, and the MySQL database.
References
M. F. Zuhri, S. Sufaidah dan A. Sifaunajah, "Rancang Bangun Aplikasi Rental Alat-Alat Pesta Dengan Sistem Notifikasi," SAINTEKBU : Jurnal Sains dan Teknologi, 2018.
A. S. Bagaskoro, R. Fauzi dan N. Ambarsari, "Perancangan User Interface Berdasarkan User Experience Aplikasi E-Learning dengan Menggunakan Metode User Centered Design Untuk Mendukung Proses Pembelajaran Studi Kasus : SMA Santa Maria 3 Cimahi," e-Proceeding of Engineering, 2020.
D. Nurhayati, H. M. Az-zahra dan A. D. Herlambang, "Evaluasi User Experience Pada Edmodo Dan Google Classroom Menggunakan Technique for User Experience Evaluation in E-Learning ( TUXEL ) ( Studi Pada SMKN 5 Malang )," Jurnal Pengembangan Teknologi Informasi dan Ilmu Komputer, vol. 3, no. 4, pp. 3771-3780, 2019.
E. Subhiyanto, Y. Astuti dan L. Umaroh, "Perancangan User Interface Aplikasi Pemodelan Perangkat Lunak Menggunakan Metode User Centered Design," Konstelasi : Konvergensi Teknologi dan Sistem Informasi, 2021.
R. B. Solichuddin dan E. G. Wahyuni, "Perancangan User Interface dan User Experience dengan Metode User Centered Design pada Situs Web Kalografi," AUTOMATA, 2021.
D. I. Fajriati dan E. R. Subhiyakto, "Perancangan Mockup User Interface (UI) Berdasarkan User Experience (UX) Aplikasi Belajar Bahasa Arab Menggunakan Metode User Centered Design," Jurnal Teknik Informatika, 2021.
L. Fanani, M. T. Ananta dan K. C. Brata, "Penerapan User-Centered Design dalam Pengembangan Aplikasi Pencarian Gedung Berbasis Android," CYBERNETICS, vol. 2, no. 2, pp. 225-233, 2018.
S. Aisyah, E. Saputra, N. E. Rozanda dan T. K. Ahsyar, "Evaluasi Usability Website Dinas Pendidikan Provinsi Riau Menggunakan System Usability Scale," Jurnal Ilmiah Rekayasa dan Manajemen Sistem Informasi, vol. 7, no. 2, pp. 125-132, Agustus 2021.
H. I. A. Husna dan S. Nafisah, "Analisis Elemen Kunci Website Berdasar Konsep Shedroff pada Website Perpustakaan Universitas Islam Indonesia," Jurnal Perpustakaan, 2019.
M. Ropianto, A. R. Basar dan D. Hermanto, "PERANCANGAN DASHBOARD SEBAGAI SISTEM INFORMASI DI DINAS PERUMAHAN RAKYAT, PEMUKIMAN DAN PERTAMANAN KOTA BATAM," JR : JURNAL RESPONSIVE, 2018.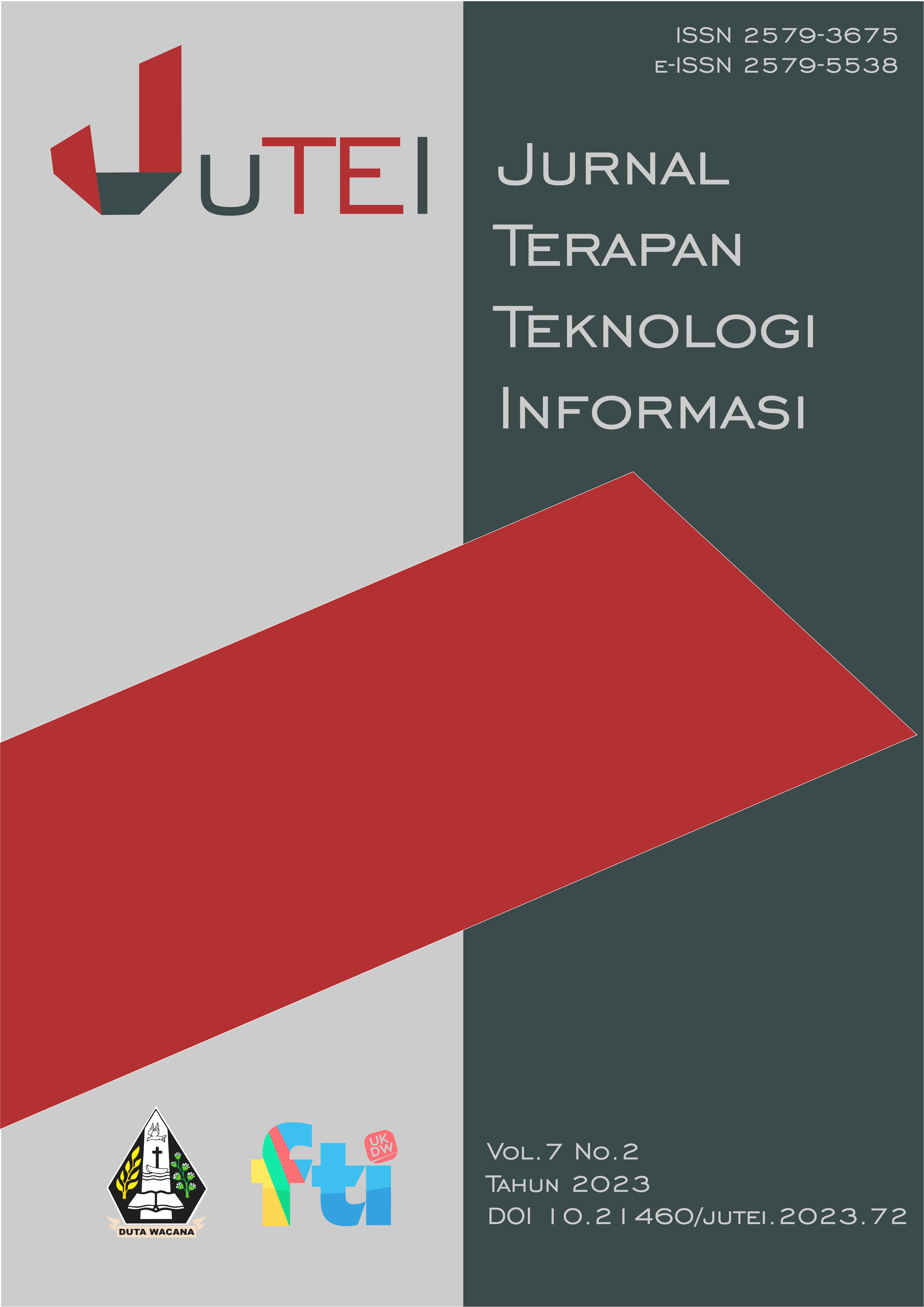 Downloads
How to Cite
[1]
D. I. Sambo, K. A. Nugraha, and R. Delima, "Pembuatan Antarmuka Website Desa Jambuwuluk Menggunakan Metode User Centered Design", JUTEI, vol. 7, no. 2, pp. 79–88, Oct. 2023.
License
Copyright (c) 2023 Denis Irwanto Sambo, Kristian Adi Nugraha, Rosa Delima
This work is licensed under a Creative Commons Attribution-NonCommercial-NoDerivatives 4.0 International License.
Authors who publish articles in JUTEI agree on the following rules:
1. The author grants non exclusive royalty free rights, and is willing to publish articles online and complete (full access). With such rights JUTEI reserves the right to save, transfers, manages in various forms, maintains and publishes articles while keeping the author's name as the copyright owner.
2. Each author contained in the article has contributed fully to the substance and intellectual, and is accountable to the public. If in the future there is a copyright infringement notification then this will be responsibility of the author, not JUTEI.