BEL PEMANGGIL PERAWAT BERBASIS WIRELESS MENGGUNAKAN ANDROID
Keywords:
pemanggil rumah sakit, Android, jelly bean, Internet
Abstract
Dalam suatu rumah sakit, pasien yang menginap sering memerlukan bantuan dari para tenaga kesehatan yaitu perawat atau dokter. Namun pada umumnya sistem pemanggil perawat yang digunakan masih sangat konvensional. Dengan kemajuan teknologi, koneksi Internet dapat dibuat dengan dukungan perangkat keras dan perangkat lunak. Koneksi Internet ini digunakan untuk meningkatkan efisiensi pelayanan perawat terhadap pasiennya. Penelitian ini membahas tentang pembuatan sistem dan aplikasi Android untuk pemanggilan perawat dengan memanfaatkan Internet. Sistem ini dapat memberitahukan posisi kamar pasien dan juga letak tempat tidur pasien. Sistem ini juga dapat memberitahu jenis bantuan yang dibutuhkan oleh pasien darurat atau tidak. Dengan memanfaatkan smartphone Android bersistem operasi Jelly bean. Sistem ini dapat bekerja secara wireless dengan bantuan koneksi Internet sehingga dapat mengurangi resiko yang terjadi yang diakibatkan oleh kendala kabel.
References
[1] I. Sayekti, "Bel Pemanggil Perawat Berbasis Wireless Menggunakan Android," Jurnal Teknik Elektro Terapan, vol. 2, pp. 174-180, 2013.

[2] N. Jamal, "Sistem Pengendali Nurse Station Menggunakan PPI 8255," Jurnal TELEMATIKA MKOM, vol. 4, pp. 133-140, September 2012.

[3] D. Evans, "The Internet of Things How the Next Evolution of The Internets is Changing Everything: Cisco Internet Business Solutions Group (IBSG).", ed. San Jose: CISCO, 2011.

[4] E. D. Meutia, "Internet of Things - Keamanan dan Privasi," Seminar Nasional dan Expo Teknik Elektro Tahun 2015, 2015.

[5] O. Vermesan and P. Friess, Internet of Things - From Research and Innovation to Market Deployment. Aalborg: River Publisher, 2014.

[6] N. S. H., "Pemrograman Aplikasi Mobile Smartphone dan Tablet PC Berbasis Android," ed Bandung: Informatika Bandung, 2011.

[7] M. Ichwan and F. Hakiky, "Pengukuran Kinerja Goodreads Application Programming Interface (API) pada Aplikasi Mobile Android (Studi Kasus Untuk Pencarian Data Buku)," Jurnal Informatika, vol. 2, pp. 13-21, Mei - Agustus 2011.

[8] Z. P. Juhara, PANDUAN LENGKAP PEMROGRAMAN ANDROID. Yogyakarta: Penerbit Andi Yogyakarta, 2016.

[9] S. V. Kartalopoulos, Free Space Optical Networks For Ultra-Broad Band Service. New Jersey: John Wiley & Sons, Inc.

[10] P. Gregory, CISSP Guide to Security Essentials 2nd Edition. Boston: Cengage Learning, 2015.

[11] T. Dean, Network+ Guide to Networks 6th ed. Boston: Course Technology, 2013.

[12] J. F. DiMarzio, Android: A Programmer's Guide. New York: McGraw-Hill, 2008.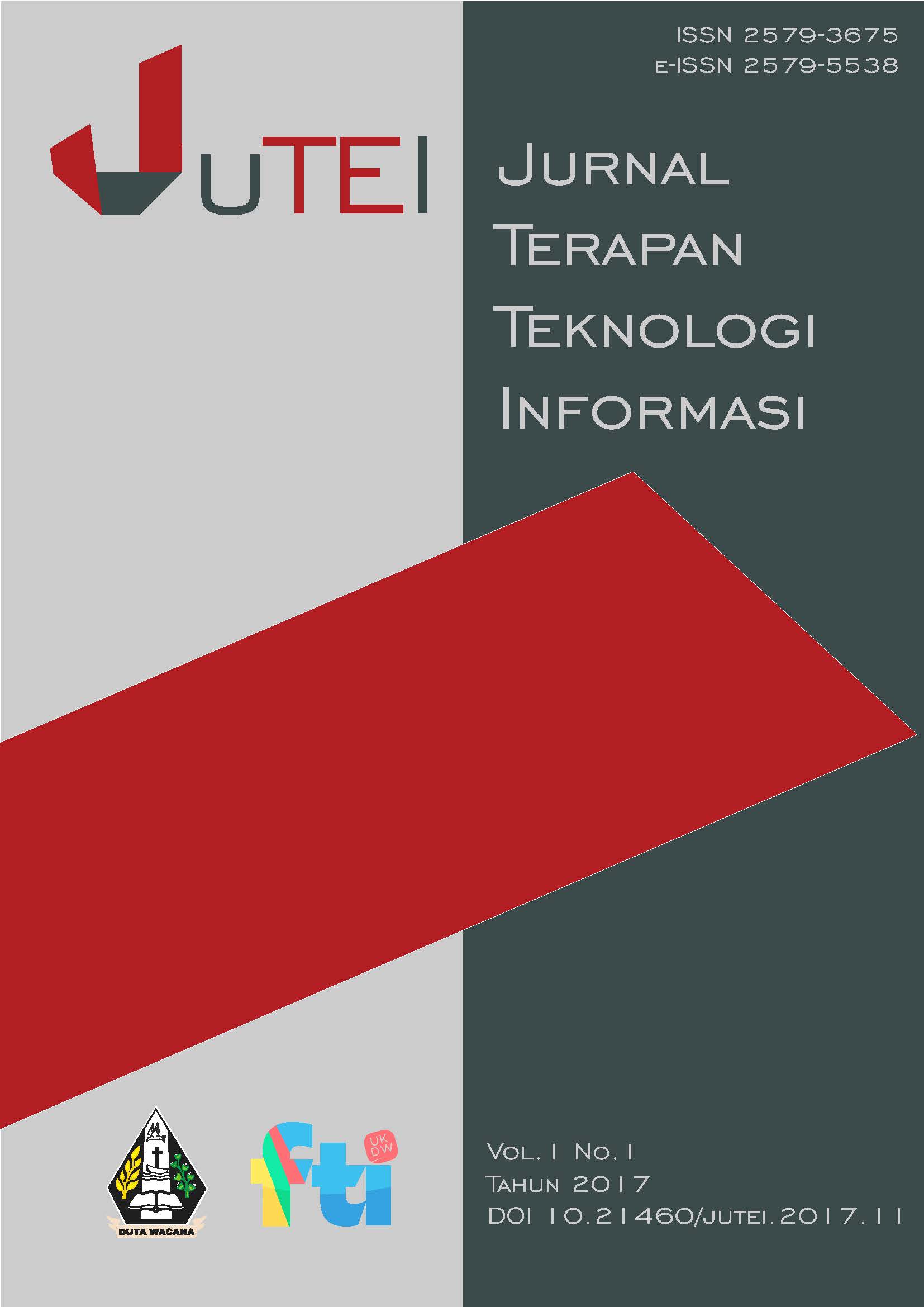 Downloads
How to Cite
[1]
R. Roby, P. B. Mardjoko, and M. Wulandari, "BEL PEMANGGIL PERAWAT BERBASIS WIRELESS MENGGUNAKAN ANDROID", JUTEI, vol. 1, no. 1, Apr. 2017.
License
Authors who publish articles in JUTEI agree on the following rules:
1. The author grants non exclusive royalty free rights, and is willing to publish articles online and complete (full access). With such rights JUTEI reserves the right to save, transfers, manages in various forms, maintains and publishes articles while keeping the author's name as the copyright owner.
2. Each author contained in the article has contributed fully to the substance and intellectual, and is accountable to the public. If in the future there is a copyright infringement notification then this will be responsibility of the author, not JUTEI.