Pemodelan Representasi Pengetahuan Berbasis OWL untuk Objek Arsitektur Candi di Indonesia
Keywords:
Candi Indonesia, Semantic Web, On-To-Knowledge, OWL, SPARQL
Abstract
Candi merupakan salah satu contoh warisan budaya. Jumlah candi Indonesia yang banyak membuat informasi yang tersebar di internet juga sangatlah banyak. Namun informasi tersebut bukanlah suatu kesatuan informasi. Oleh karena itu, dibutuhkan sebuah sistem yang dapat menyimpan informasi-informasi tersebut. Untuk membantu pengolahan data candi, maka dibuat sistem semantic web. Sistem ini akan membantu memodelkan data candi. Tujuan dari sistem ini adalah untuk memodelkan data dan menampilkan informasi yang akurat tentang candi yang ada di Indonesia. Sistem dibangun dengan menggunakan metode On-To-Knowledge. Sistem semantic web yang dibangun berbasis OWL dan database yang digunakan adalah SPARQL. Sistem semantic web mampu menghubungkan data kebudayaan candi dengan kebudayaan yang lain. Selain itu, sistem juga dapat menampilkan informasi berdasarkan deskripsi dan gambar dari candi.
References
Arifin, F. (2015). Representasi Simbol Candi Hindu Dalam Kehidupan Manusia : Kajian Linguistik Antropologis. Jurnal Penelitian Humaniora, Vol. 16, No. 2, 12-20.
Dwiono, A. (2013). Mesin Pencari Cerdas dengan Web Semantik. Jurnal Generic, Vol. 8, No. 1, 209-220.
Hassanzadeh, H., & Keyvanpour, M. R. (2012). Semantic Web Requirements through Web Mining. International Journal of Computer Theory and Engineering, Vol. 4, No. 4.
Binding, C., Charno, M., Jeffrey, S., May, K., & Tudhope, D. (2015). Template Based Semantic Integration: From Legacy Archaeological Datasets to Linked Data. International Journal on Semantic Web and Information Systems, Vol 11, No 1.
Sagita, D.N. (2015). Model Data Berbasis Semantic Web Untuk Representasi Pengetahuan Busana pengantin Tradisional Yogyakarta. (Undergraduate thesis, Duta Wacana Christian University, 2015). Retrieved from http://sinta.ukdw.ac.id
Pawełoszek, I., & Wieczorkowski, J. (2015). The role of semantics in searching for information. Online Journal of Applied Knowledge Management, Volume 3, Issue 1.
RDF Working Group, "Resource Description Framework (RDF)," W3C Semantic Web, 25 02 2014. [Online]. Available: https://www.w3.org/RDF/. [Accessed 18 03 2018].
Patriatsa, J.B. (2016). Penerapan Prinsip Sematic Web Pada Representasi Sederhana Arsitektur rumah tradisional diy. (Undergraduate thesis, Duta Wacana Christian University, 2016). Retrieved from http://sinta.ukdw.ac.id
Badron, Y. F., Agus, F., & Hatta, H. R. (2017). Studi Tentang Pemodelan Ontologi Web Semantik Dan Prospek Penerapan Pada Bibliografi Artikel Jurnal Ilmiah. Prosiding Seminar Ilmu Komputer dan Teknologi Informasi, Vol. 2, No 1, 164-169
Andri. (2013). Implementasi Teknologi Web Semantik Dalam Aplikasi Pencarian Katalog Online Perpustakaan Universitas Bina Darma. Jurnal Imiah MATRIK Vol.15 No.1, 11-20.
Hussain, S. M., Kanakam, P., Suryanarayana, D., Gunnam, S., & S, S. (2016). Semantic Information Retrieval: An Ontology and RDFbased. International Journal of Computer Applications, Vol 156, No 9.
Sureephong, P., Chakpitak, N., Ouzrout, Y., & Bouras, A. (2008). An Ontology-based Knowledge Management System for Industry Clusters. Global Design to Gain a Competitive Edge, 333-342.
Khusro, S., Jabeen, F., Mashwani, R. S., & Alam, I. (2014). Linked Open Data: Towards the Realization of Semantic Web- A Review. Indian Journal of Science and Technology, Vol 6, 745-764.
Hendrik, & Cahyono, B. A. (2017). Model WordNet Bahasa Indonesia berbasis Linked Data. JNTETI, Vol. 6, No.1, 8-14.
Saputra, K. H. (2002). Indonesia Heritage Sejarah Awal. Buku Antar Bangsa untuk Grolier International.
Atlas Budaya Edisi Candi. (2015). Atlas Budaya Indonesia (Edisi Candi). Bogor: Badan Informasi Geospasial.
Mulyadi, L., Hutabarat, J., & Harisman, A. (2015). Relief Dan Arca Candi Singosari - Jawi . Malang: CV. Dream Litera Buana.
Sedyawati, E., Santiko, H., Djafar, H., Maulana, R., Ramelan, W. D., & Ashari, C. (2013). Candi Indonesia Seri Jawa. Direktorat Jenderal Kebudayaan.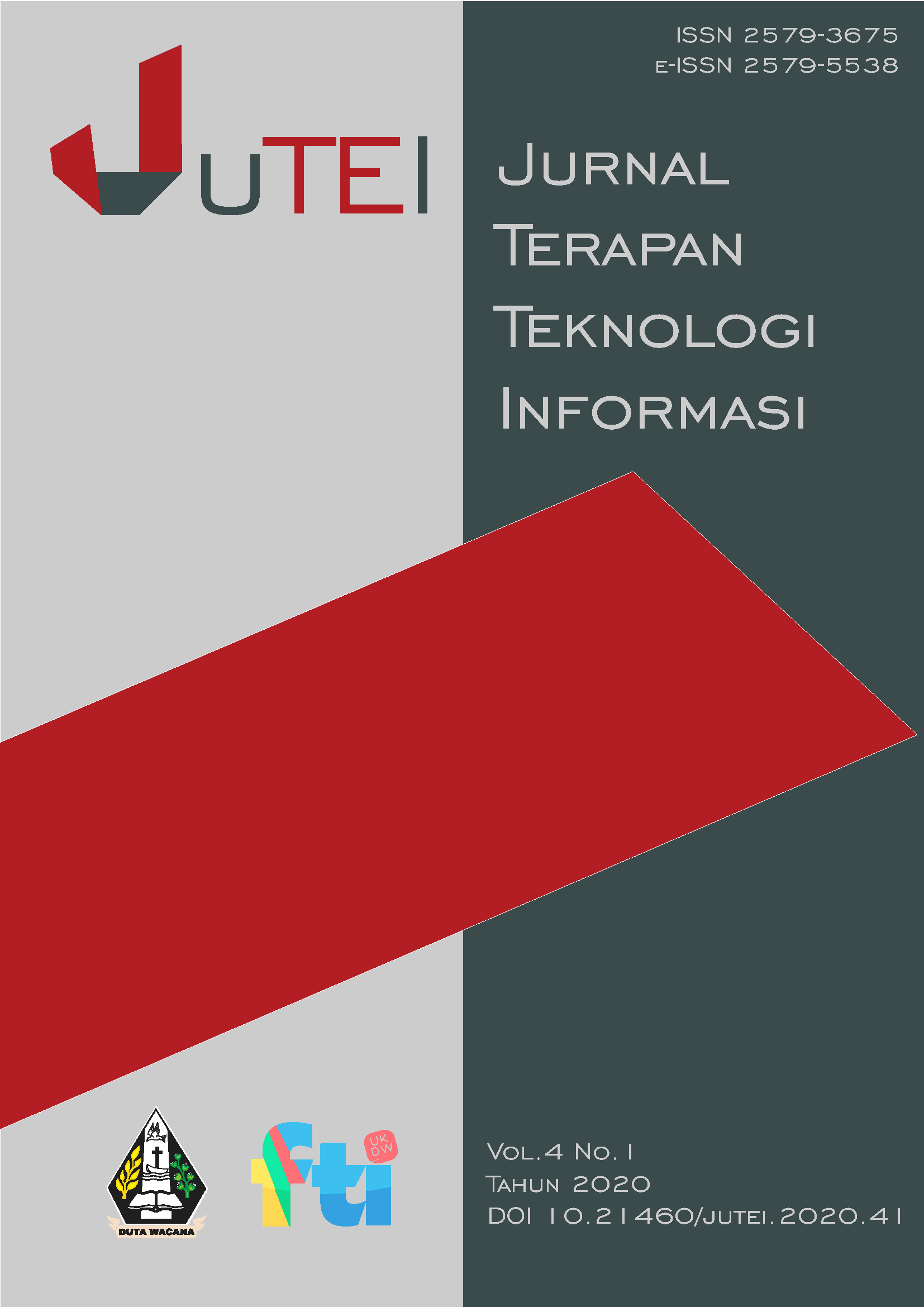 Downloads
How to Cite
[1]
T. M. . Camilo, G. . Virginia, B. . Susanto, and U. Proboyekti, "Pemodelan Representasi Pengetahuan Berbasis OWL untuk Objek Arsitektur Candi di Indonesia", JUTEI, vol. 4, no. 1, pp. 13–21, Jul. 2021.
License
Copyright (c) 2021 Thalia Maria Camilo, Gloria Virginia, Budi Susanto, Umi Proboyekti
This work is licensed under a Creative Commons Attribution-NonCommercial-NoDerivatives 4.0 International License.
Authors who publish articles in JUTEI agree on the following rules:
1. The author grants non exclusive royalty free rights, and is willing to publish articles online and complete (full access). With such rights JUTEI reserves the right to save, transfers, manages in various forms, maintains and publishes articles while keeping the author's name as the copyright owner.
2. Each author contained in the article has contributed fully to the substance and intellectual, and is accountable to the public. If in the future there is a copyright infringement notification then this will be responsibility of the author, not JUTEI.