PENGEMBANGAN SISTEM PRESENSI PEGAWAI BERBASIS ANDROID MENGGUNAKAN TEKNOLOGI NEAR FIELD COMMUNICATION
Keywords:
Laboran, Realtime, Presensi, Near Field Communication (NFC), Platform Android, Kartu Pintar (Smartcard), Google Cloud Messaging (GCM)
Abstract
Sistem presensi pegawai yang ada di laboran PTS X masih manual dan dinilai kurang efisien karena terkadang pegawai laboran cenderung menunda untuk mengisi presensi setelah bertugas serta belum adanya pengawasan secara realtime dari sisi stakeholder/pejabat di lingkungan PTS X. Terbukti dengan fakta seperti absensi tidak jelas/kotor dan waktu masuk yang tidak sesuai dengan jadwal yang sudah ada sehingga memperlambat proses rekapitulasi gaji. Untuk itu dibutuhkan sistem baru yang dapat mengatasi masalah tersebut dengan membangun sebuah aplikasi presensi pegawai. Metode penelitian yang digunakan adalah Metode Penelitian dan Pengembangan atau sering disebut juga dengan Research and Development, namun dalam penelitian ini langkah-langkah penggunaan R&D dilakukan sampai ujicoba produk atau ujicoba terbatas saja. Penelitian ini menghasilkan aplikasi sistem presensi pegawai berbasis mobile memanfaatkan teknologi Near Field Communication pada platform Android dengan sistem yang sudah terintegrasi baik dan memberikan kemudahan kepada pegawai laboran dalam melakukan proses presensi.
References
[1] C. Shraddha, G. Mangesh, M. Gunjan, "Mobile Phone Based Attendance System", IOSR Journal of Computer Engineering (IOSR-JCE), Vol. 10, Issue 3, Mar.-Apr., 2013.
[2] C. Vedat, O. Busra, O. Kerem, "A Survey on Near Field Communication (NFC) Technology", Wireless Pers Commun (2013), 1 December 2014.
[3] Fadlil, Abdul., Firdausy Kartika., dan Hermawan, Fauzi., "Pengembangan Sistem Basis Data Presensi Perkuliahan dengan Kartu ber-Bercode", Telkomnika, Vol. 6, No. 1, April 2008.
[4] T. L. Dini, M. Rinaldi, "Implementasi Sistem Absensi Pegawai Menggunakan QR Code Pada Smartphone Berbasis Android", Institut Teknologi Bandung, 2012.
[5] R. I. Barraza, O. O. Vergara, V. G. Cruz, "A Mobile Augmented Reality Framework Based on Reusable Components", IEEE Latin America Transactions, Vol. 13, No. 3, Mar. 2015.
[6] C. Vedat, K. Ok, and O. Busra, "Near Field Communication: From Theory to Practice", Wiley, Istanbul. 2012.
[7] (Sept. 2014), Google Cloud Messaging for Android, Cloud Messaging Support [Online]. Tersedia: https://cloud.google.com/mobile/messaging.
[8] RFID Handbook, Fundamentals And Applications In Contactless Smart Cards, Radio Frequency Identification And Near-Field Communication, edisi ketiga, A John Wiley and Sons, Ltd, 2010.
[9] C. David, J. Tyler, "Java Web Services (Using Java in Service-Oriented Architectures)", O'Reilly, March 2002.
[10] Sugiyono, "Metode Penelitian Kuantitatif, Kualitatif, dan R&D", 2012, hal. 298.
[11] F. Martin, "UML DISTILLED", dalam A Brief Guide to The Standard Object Modelling Language, edisi ketiga, 2004.
[12] M. Wolfram. (2015). Haversine Formula. [Online]. Tersedia: http://www. mathworld.wolfram.com/Haversine.html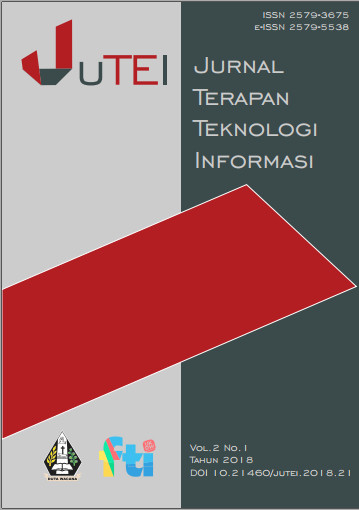 Downloads
How to Cite
[1]
M. M. Engel, "PENGEMBANGAN SISTEM PRESENSI PEGAWAI BERBASIS ANDROID MENGGUNAKAN TEKNOLOGI NEAR FIELD COMMUNICATION", JUTEI, vol. 2, no. 1, pp. 33–42, May 2018.
License
Authors who publish articles in JUTEI agree on the following rules:
1. The author grants non exclusive royalty free rights, and is willing to publish articles online and complete (full access). With such rights JUTEI reserves the right to save, transfers, manages in various forms, maintains and publishes articles while keeping the author's name as the copyright owner.
2. Each author contained in the article has contributed fully to the substance and intellectual, and is accountable to the public. If in the future there is a copyright infringement notification then this will be responsibility of the author, not JUTEI.