SISTEM QUALITY CONTROL GUDANG MENGGUNAKAN SENSOR DT-I/O INFRARED RECEIVER 991-121, PUSH EMAIL DAN MIKROKONTROLER ARDUINO UNO PADA PT MULTIPRIMA FOOD
Keywords:
Arduino Uno, Sensor DT-I/O Infrared Receiver 991-121, Quality Control, MySQL, Java
Abstract
Produk yang baik adalah produk yang berkualitas, untuk mencapai kualitas tinggi dan memenuhi standar dan memuaskan konsumen tidak lepas dari peranan Quality Control. Sebuah bisnis distributor makanan sangat memerlukan kualitas terhadap makanan tersebut dan juga pelayanan terhadap pelanggan, pada PT MULTIPRIMA FOOD penjagaan kualitas makanan pada gudang sangat terjaga sesuai SOP yang telah dibuat. Namun tidak menjadi jaminan bahwa makanan tersebut akan terjaga sepenuhnya, makanan tersebut diketahui rusak atau tidaknya lebih sering ditemukan pada saat pemasukan ke truk untuk dikirim. Tetapi sering kali tidak terlaporkan ataupun pemberian tindakan karena tidak maksimalnya cara dan penerapan pelaporan dan perusahaan memerlukan solusi untuk pelaporan yang efektif terhadap kantor dan kepala gudang langsung mengingat tindakan perbaikan biasanya akan dilakukan dengan memberikan sosialisasi atau training secara berkesinambungan pada semua team dalam meningkatkan kualitas. Pada penelitian ini akan dibahas mengenai sistem quality control gudang menggunakan sensor DT-I/O infrared receiver 991-121, push email dan mikrokontroler arduino uno pada PT MULTIPRIMA FOOD yang bertujuan dapat memberikan solusi kepada perusahaan dan kepala gudang dalam pelaporan dan tindakan. Aplikasi ini menghasilkan pelaporan dengan baik setiap langkah yang dilakukan, baik melakukan pemasukkan, pengeluaran, selesai, masalah ataupun tindakan dan juga suara notifikasi membantu Kepala Gudang mengetahui kondisi seluruh proses pada gudang.
References
[1] Wira. G, Prama, Hari Utami, Ferry & Cheng, Ei. 2013. Penerapan Infrared Remote Control Dalam Mengoperasikan Aplikasi Pada Sistem Operasi Windows XP. Bengkulu : Jurnal Media Infotama.
[2] Marathe, Rhuta, Kulkarni, Amura & Devkar, Utkarsha. 2014. Portable Automatic Height Detector. International Journal of Science, Engineering and Technology Research (IJSETR).
[3] Montgomery, Douglas C. 2001. Introduction to Statistical Quality Control. 4th Edition. New York: John Wiley & Sons, Inc.
[4] Sofer, Nir (2003). NirCmd v.2.81. Tersedia : http://www.nirsoft.net/utils/nircmd.html. 22 Maret 2017.
[5] F. Leao, Cibeli, T. Formoso, Carlos & L. Isatto, Eduardo. 2014. Integrating Production And Quality Control With Support Of Information Technology. Brazil : Building Innovation Research Unit (NORIE).
[6] (2005) Innovative Electronics website. [Online]. Tersedia : http://www.innovativeelectronics.com/innovative_electronics/download_files/manual/Manual%20DT-IO%20IR%20Receiver.pdf
[7] Richard B. Chase, Nicholas J. Aquilano and F. Robert Jacobs. 2001. Operations Management For Competitive Advantage. 9th Edition. New York: McGraw-Hill Companies.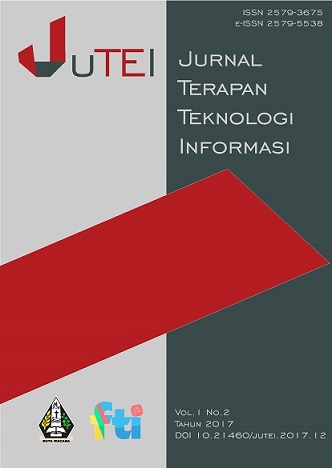 Downloads
How to Cite
[1]
W. Purnama, V. Hendrico, D. Ariyono, and D. V. S. Y. Sakti, "SISTEM QUALITY CONTROL GUDANG MENGGUNAKAN SENSOR DT-I/O INFRARED RECEIVER 991-121, PUSH EMAIL DAN MIKROKONTROLER ARDUINO UNO PADA PT MULTIPRIMA FOOD", JUTEI, vol. 1, no. 2, pp. 109–119, Nov. 2017.
License
Authors who publish articles in JUTEI agree on the following rules:
1. The author grants non exclusive royalty free rights, and is willing to publish articles online and complete (full access). With such rights JUTEI reserves the right to save, transfers, manages in various forms, maintains and publishes articles while keeping the author's name as the copyright owner.
2. Each author contained in the article has contributed fully to the substance and intellectual, and is accountable to the public. If in the future there is a copyright infringement notification then this will be responsibility of the author, not JUTEI.