ANALISIS STRATEGI BISNIS DAN SI / TI PADA PERUSAHAAN RINTISAN BERBASIS TEKNOLOGI
Keywords:
perusahaan rintisan, analisis strategi SI/TI, analisis strategi bisnis
Abstract
Selain sebagai sarana penunjang dalam berkomunikasi, perkembangan teknologi juga berpengaruh terhadap pergeseran gaya hidup masyarakat perkotaan. Hal tersebut menjadi motivasi utama para inovator yang ingin menciptakan solusi atas berbagai persoalan melalui inovasi teknologi. Ini senada dengan semakin berkembangnya perusahaan rintisan di bidang teknologi. Salah satu perusahaan rintisan yang tergabung dalam ADITIF akan menjadi obyek penelitian ini. Hasil dari penelitian ini adalah mengetahui kondisi internal dan eksternal perusahaan, baik dari sisi bisnis maupun SI/TI dan selanjutnya dilakukan evaluasi serta diajukan rekomendasi strategi yang sesuai dengan budaya perusahaan rintisan. Beberapa usulan strategi yang dihasilkan dari penelitian ini mecakup strategi SI yang berupa usulan portofolio aplikasi administratif untuk mendukung proses bisnis perusahaan, strategi TI yang berupa usulan pemanfaatan cloud computing secara maksimal, dan strategi manajemen SI/TI yang berupa daftar usulan kegiatan bisnis yang dapat meningkatkan kematangan keselarasan strategi.
References
Kominfo (2018) Infografis Penetrasi dan Perilaku Pengguna Internet Indonesia. [Online]. Available: https://web.kominfo.go.id/sites/default/files/Laporan%20Survei%20APJII_2017_v1.3.pdf
Badan Ekonomi Kreatif (2018) Bantuan Pemerintah untuk Revitalisasi Infrastruktur Fisik Ruang Kreatif, Sarana Ruang Kreatif, dan Teknologi Informasi dan Komunikasi. [Online]. Available: https://banper.bekraf.go.id
Ries, E. (2011). The Lean Startup. New York: Crown Business.
Hathway management consulting. (2013). Strategic planning: 5 essential considerations for SME owners, (April).
Vargo, J., & Seville, E. (2011). Crisis Strategic Planning for SMEs : Finding the Silver Lining, 49(18), 1–18.
Blank, Steve. 2013. Why The Lean Start-Up Changes Everything. Harvard Business Review.
Kurniawan, N. B., & Suhardi. (2013). Enterprise Architecture design for ensuring strategic business IT alignment (Integrating SAMM with TOGAF 9.1). 2013 Joint International Conference on Rural Information & Communication Technology and Electric-Vehicle Technology (rICT & ICeV-T), 1–7. doi:10.1109/rICT-ICeVT.2013.6741505
Papp, R. (2001). Strategic Information Technology: Opportunities for Competitive Advantage (pp. 1–24). Hershey PA.
Ward, John., Peppard, Joe. 2002. Strategic Planning For Information Systems 2nd Ed. John Wiley & Sons, New York.
Bullen, C. V, & Rockart, J. F. (1981). A PRIMER ON CRITICAL SUCCESS FACTORS Christine V. Bullen John F. Rockart, (69).
Ward, John., Griffiths, P. 2003. Strategic Planning For Information Systems 2nd Ed. John Wiley & Sons, Chicester.
Porter, M. E. The Competitive Advantage: Creating and Sustaining Superior Performance. NY: Free Press, 1985.
HUMPHREY, S. A. (2005). "SWOT Analysis for Management Consulting", SRI Alumni Association Newsletter, December.
Gupta, A., Officer, A., & Kalan, W. (2013). Environment & PEST Analysis : An Approach to External Business Environment, 2(1), 34–43.
Cash, J.I., McFarlan, F.W., McKenney, J.L. and Vitale, M.R. (1988) Corporate Information Systems Management: Text and Cases, (2nd Ed.), Richard D. Irwin Inc.: Homewood, IL.
Alex. (2012). Apa Itu Cloud Computing? [Online]. Available: http://www.cloudindonesia.or.id/apa-itu-cloud-computing.html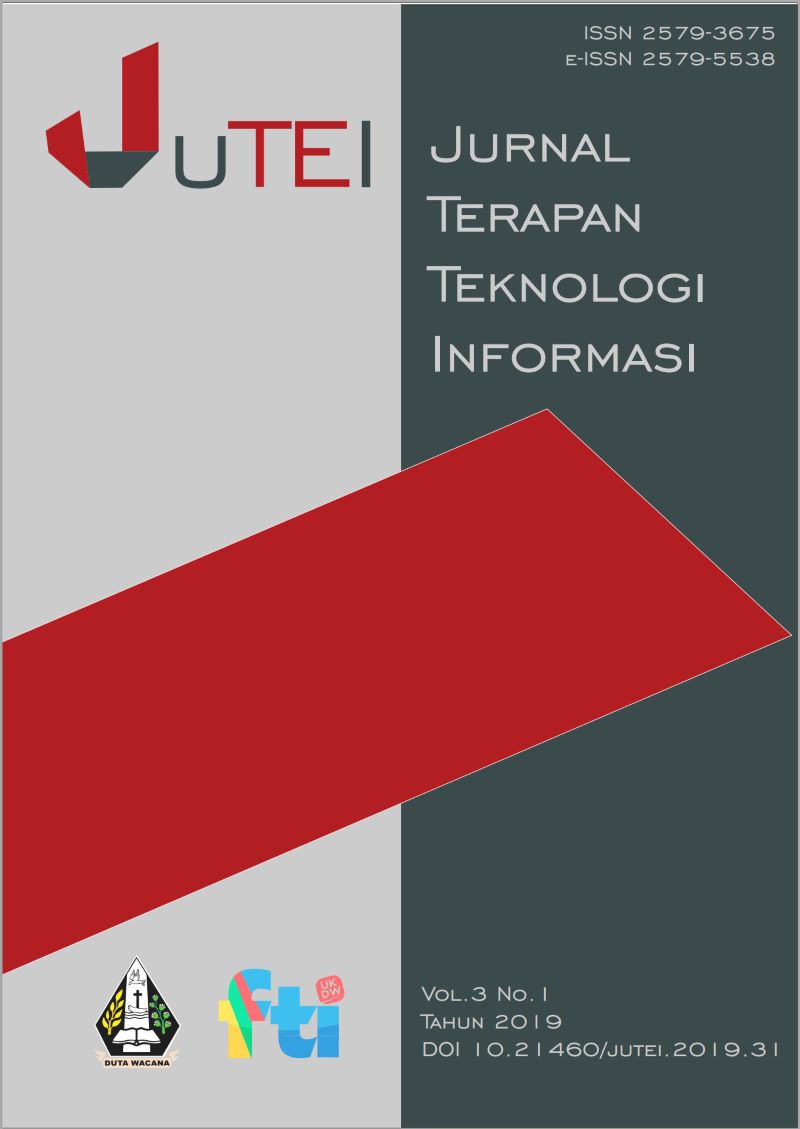 Downloads
How to Cite
[1]
P. Nastiti, "ANALISIS STRATEGI BISNIS DAN SI / TI PADA PERUSAHAAN RINTISAN BERBASIS TEKNOLOGI", JUTEI, vol. 3, no. 1, pp. 31–40, Jul. 2019.
License
Authors who publish articles in JUTEI agree on the following rules:
1. The author grants non exclusive royalty free rights, and is willing to publish articles online and complete (full access). With such rights JUTEI reserves the right to save, transfers, manages in various forms, maintains and publishes articles while keeping the author's name as the copyright owner.
2. Each author contained in the article has contributed fully to the substance and intellectual, and is accountable to the public. If in the future there is a copyright infringement notification then this will be responsibility of the author, not JUTEI.