ANALISIS MANFAAT SISTEM INFORMASI PENERIMAAN MAHASISWA BARU DENGAN METODE IT BALANCED SCORECARD
Keywords:
Analisis Manfaat, Sistem Informasi Penerimaan Mahasiswa Baru, IT Balanced Scorecard
Abstract
Proses bisnis Penerimaan Mahasiswa Baru (PMB) merupakan proses bisnis awal yang selalu dilakukan setiap tahun oleh universitas untuk mendapatkan mahasiswa baru. Banyak universitas telah memanfaatkan Teknologi Informasi (TI) untuk mendukung proses tersebut. Universitas Atma Jaya Yogyakarta juga telah menggunakan SI/TI untuk menjalankan proses PMB. Meskipun dinilai akan banyak memberikan manfaat namun belum pernah dilakukan penilaian secara formal tentang manfaat dari sistem PMB berbasis TI tersebut. Penelitian ini bertujuan untuk menganalisis manfaat dari sistem informasi PMB dengan menggunakan metode IT Balanced Scorecard (IT BSC). Penelitian dilakukan dalam beberapa tahap yaitu tahap pengumpulan data, analisis data, dan penarikan kesimpulan. Proses pengumpulan data dilakukan dengan teknik kuesioner, wawancara,  dan observasi langsung. Hasil penelitian menunjukkan bahwa sistem informasi PMB UAJY belum sepenuhnya dapat dirasakan manfaatnya untuk mendukung organisasi. Dari keempat perspektif IT BSC yang diukur kinerjanya, manfaat baru dapat dirasakan pada perspektif Corporate Contribution sedangkan pada ketiga perspektif yang lain belum dapat dirasakan manfaatnya.
References
[1] R. S. Kaplan and P. D. Norton, The Balanced Scorecard: Translating Strategy into Action, Boston, MA.: Harvard Business School Press, 1996.
[2] F. Rabbani et al., "Designing a Balanced Scorecard for a Tertiary Care Hospital in Pakistan: a Modified Delphi Group Exercise," International Journal of Health Planning and Management, vol. 25, no. 1, pp. 74-90, 2010.
[3] J. Michalska, "The Usage of The Balanced Scorecard for The Estimation of The Enterprise's Effectiveness," Journal of Materials Processing Technology, Vols. 162-163, pp. 751-758, 2005.
[4] C. Gold, "Total Quality Management in Information Services - IS Measures: A Balancing Act," Ernst and Young Center for Information Technology and Strategy , Boston, 1992.
[5] L. Willcocks, Infomation Management: The Evaluation of Information Systems Investments, London: Chapman and Hall, 1995.
[6] A. Asosheh et al., "An ERP System Performance Assessment Model Development based on The Balanced Scorecard Approach," Expert Systems with Applications, vol. 37, no. 8, pp. 5931-5938, 2010.
[7] D. Chand et al., "A Balanced Scorecard based Framework for Assessing the Strategic Impacts of ERP Systems," Computers in Industry, vol. 56, no. 6, pp. 558-572, 2005.
[8] S.-I. Chang et al, "An ERP System Performance Assessment Model Development based on The Balanced Scorecard Approach," Information System Frontiers, vol. 13, no. 3, pp. 429-450, 2011.
[9] W. Van Grembergen and R. Van Bruggen, "Measuring and Improving Corporate Information Technology through The Balanced Scorecard Technique," in The Fourth European Conference on The Evaluation of Information Technology , Delft, October 1997.
[10] W. Van Grembergen and D. Timmerman, "Monitoring the IT Process through the Balanced Scorecard," in 9th Information Resources Management International Conference, Boston, May 1998.
[11] W. Van Grembergen, "The Balanced Scorecard and IT Governance," Information Systems Control Journal, vol. 2, pp. 40-43, 2000.
[12] K. Milis and R. Mercken, "The Use of The Balanced Scorecard for The Evaluation of Information and Communication Technology Projects," International Journal of Project Management, vol. 22, pp. 87--97, 2004.
[13] W. Sardjono and T. Pujadi, "Performance Evaluation of Systems Managed File Transfer in Banking Industry Using IT Balanced Scorecard," in The International Conference on Information Management and Technology , Bandung, 2016.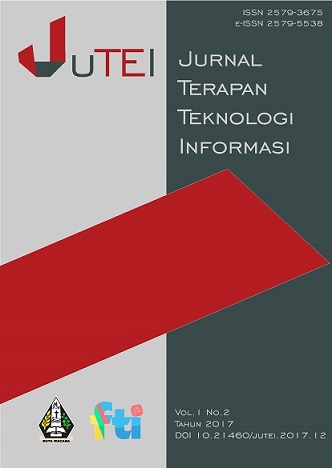 Downloads
How to Cite
[1]
F. S. Rahayu, R. D. Ginantaka, and Y. S. P. WP, "ANALISIS MANFAAT SISTEM INFORMASI PENERIMAAN MAHASISWA BARU DENGAN METODE IT BALANCED SCORECARD", JUTEI, vol. 1, no. 2, pp. 99–108, Nov. 2017.
License
Authors who publish articles in JUTEI agree on the following rules:
1. The author grants non exclusive royalty free rights, and is willing to publish articles online and complete (full access). With such rights JUTEI reserves the right to save, transfers, manages in various forms, maintains and publishes articles while keeping the author's name as the copyright owner.
2. Each author contained in the article has contributed fully to the substance and intellectual, and is accountable to the public. If in the future there is a copyright infringement notification then this will be responsibility of the author, not JUTEI.