ANALISIS FAKTOR YANG PALING BERPENGARUH PADA KEINGINAN MENGGUNAKAN APLIKASI GRAB DI KOTA SURABAYA
Abstract
Di era komunikasi modern ini dimana banyak sekali aplikasi transportasi yang di pergunakan oleh masyarakat. Persaingan mencari pelanggan menjadi fokus utama para pembuat aplikasi. Di penelitian ini dibahas mengenai faktor yang paling mempengaruhi keputusan menggunakan aplikasi Grab. Fokus penelitian ini kepada pengguna applikasi Grab di daerah Surabaya. Penelitian ini menggunakan Intention to Use sebagai Variable Dependen dan menggunakan Variable Independen yaitu: Perceived Usefulness, Perceived Ease of Use, Computer Self Eficacy dan Trust. Metode yang di lakukan pada penelitian ini dengan penyebaran Kuisioner menggunakan teknik sampling non purposive sampling.
Kata Kunci: Regresi Linear, Grab, Jasa Transportasi, TAM
References
[1] K. C. Laudon dan J. P. Laudon, "Management Information Systems: Managing the Digital Firm,"
Journal Information Systems, 2012.
[2] J. Jauhari, "Upaya Pengembangan Usaha Kecil dan Menengah (UKM) dengan Memanfaatkan ECommerce," Jurnal Sistem Informasi., 2010.
[3] "Google Playstore," Grab Taxi, [Online]. Available: https://play.google.com/store/apps/details?id=com.grabtaxi.passenger. [Diakses 27 October 2017].
[4] E. Fatmawati, "Technology Acceptance Model (TAM) Untuk Menganalisis Penerimaan Terhadap Sistem Informasi Perpustakaan," Jurnal Iqra', vol. 09, no. 01, 2015.
[5] R. A. Sanchez dan A. D. Hueros, "Motivational Factors That Influence The Acceptance of Moodle Using TAM," Computers in Human Behavior, pp. 1632-1640, 2010.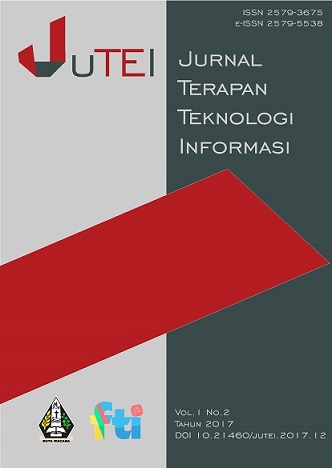 How to Cite
[1]
R. Tanamal, "ANALISIS FAKTOR YANG PALING BERPENGARUH PADA KEINGINAN MENGGUNAKAN APLIKASI GRAB DI KOTA SURABAYA", JUTEI, vol. 1, no. 2, pp. 121-130, Nov. 2017.
Copyright (c) 2017 Rinabi Tanamal
This work is licensed under a Creative Commons Attribution-NonCommercial-NoDerivatives 4.0 International License.
Authors who publish articles in JUTEI agree on the following rules:
1. The author grants non exclusive royalty free rights, and is willing to publish articles online and complete (full access). With such rights JUTEI reserves the right to save, transfers, manages in various forms, maintains and publishes articles while keeping the author's name as the copyright owner.
2. Each author contained in the article has contributed fully to the substance and intellectual, and is accountable to the public. If in the future there is a copyright infringement notification then this will be responsibility of the author, not JUTEI.