OPTIMALISASI WAKTU PERCEPATAN DAN BIAYA KEGIATAN DI DALAM METODE JALUR KRITIS DENGAN PEMROGRAMAN LINIER
Djoni Dwijono

Universitas Kristen Duta Wacana
Keywords:
Waktu Percepatan Kegiatan Proyek, Biaya Kegiatan Proyek, Metode Jalur Kritis, Pemrograman Linier
Abstract
Waktu percepatan proyek di dalam metode jalur kritis memerlukan perhitungan yang teliti karena unsur waktu dan biaya yang berubah pada saat proyek dipercepat. Perhitungan perubahan unsur waktu dan biaya ini akan mengalami kesulitan yang cukup berarti pada saat proyek memiliki banyak jalur kegiatan yang harus dikerjakan dan kemungkinan jalur kegiatan yang mendahului untuk setiap jalur kegiatan tersebut dapat lebih dari satu jalur. Perubahan waktu akibat percepatan tersebut mungkin akan merubah jalur kritisnya, dan merubah jalur kritis, dapat merubah waktu terpanjang penyelesaian proyek dan juga biayanya.
Penentuan jalur kritis yang baru, berarti waktu terpanjang dan biaya kegiatan yang berubah akibat pemercepatan proyek tersebut dapat diselesaikan dengan metode jalur kritis.Tetapi metode jalur kritis tidak mampu memperlihatkan optimalisasi percepatan jalur dan pertambahan biayanya.Masalah optimalisasi jalur dan biaya ini mampu diselesaikan dengan pemrograman linier, dan pemrograman linier dapat dengan cepat diselesaikan dengan perangkat lunak Management Scientist Versi 6.0.
Dari hasil yang diperoleh, maka dengan cepat pemegang keputusan proyek dapat segera mengambil keputusan tentang hal-hal yang berhubungan dengan optimalisasi percepatan jalur dan biaya proyeknya.
References
[1] D.R.Anderson, D.J.Sweeney, T.A.Williams and K.Martin, An Introduction to Management Science, Quantitative Approaches to Decision Making, Edisi ke-12, South-Western, Thomson, 2008, hal.32-89

[2] D.R.Anderson, D.J.Sweeney, T.A.Williams, J.D. Camm, J.J.Cochran, M.J.Fry, and J.W.Chimann, Quantitative Methods for Business, Edisi ke-12, South-Western, Thomson, 2013, hal. 306-354

[3] F.S.Hillier, M.S.Hillier, K.Schmedders, and M. Stephens, Introduction to Management Science, Edisi ke-3, New York, McGraw Hill, 2008, hal. 17-52

[4] F.S.Hillier and G.J.Lieberman, Introduction to Operation Research, Edisi ke-9, Boston, McGraw Hill, 2010, hal. 23-88

[5] R.P.Murthy, Operation Research, Edisi ke-2, New Delhi, New Age International, 2007, hal.22-140

[6] H.A.Taha, Operation Research, An Introduction, Edisi ke-8, Upper Saddle River, New Jersey, Prentice Hall, 2007, hal.11-80

[7] R.J.Harsbanger and J.J.Reynolds, Mathematical Applications for Management, Life and Social Sciences, Edisi ke-10, Boston, Brooks/Cole, Cengage Learning, 2013, hal. 257-322

[8] T.T.Soo, Finite Mathematics, For The Managerial, Life and Social Science, Edisi ke-9, Belmont, Brook/Cole, 2010, hal.201-256

[9] W.J.Stevenson, Operations Management, Edisi ke-11, New York, McGraw Hill, Irwin, 2012, hal. 742-773 dan hal. 832-854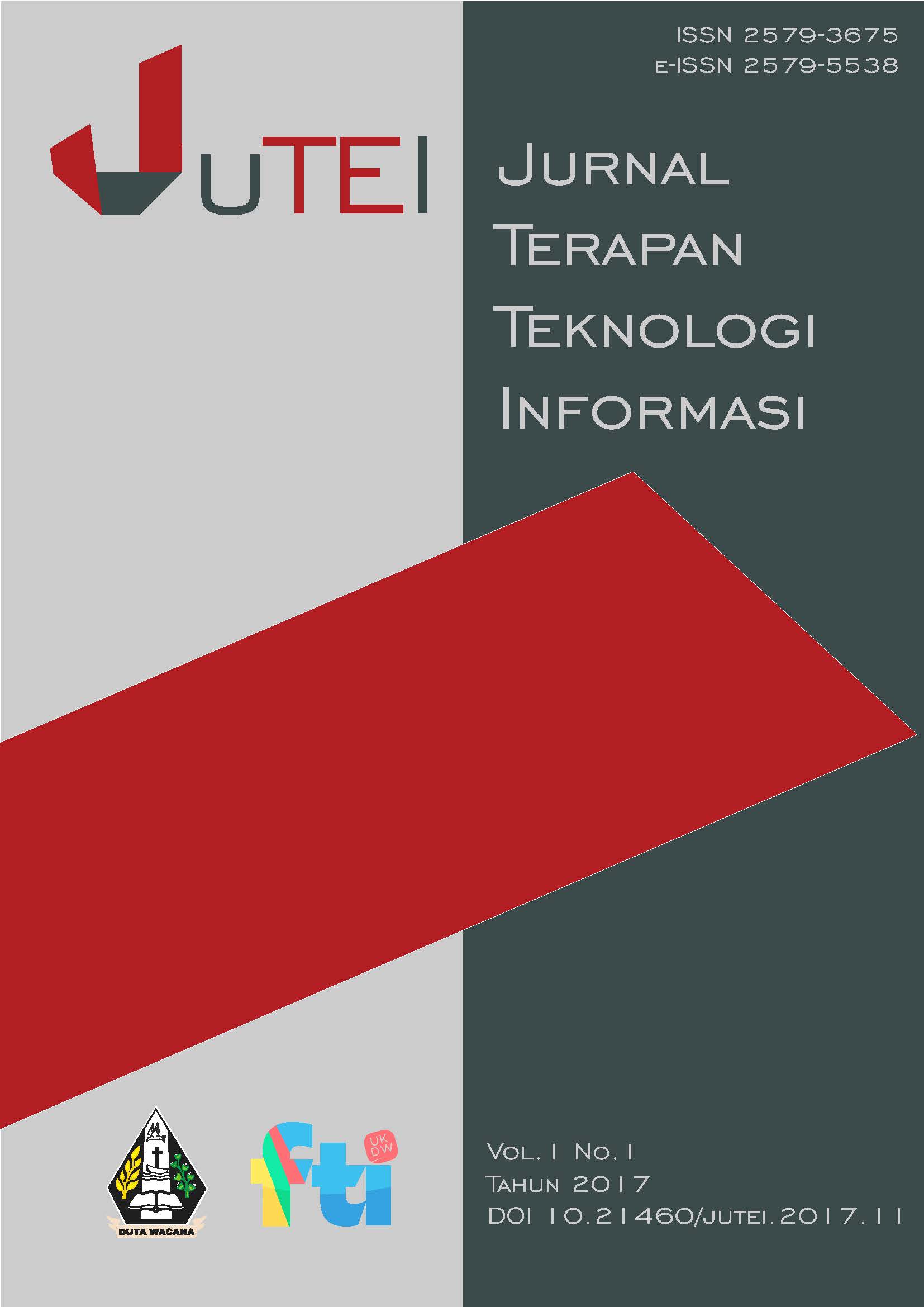 How to Cite
[1]
D. Dwijono, "OPTIMALISASI WAKTU PERCEPATAN DAN BIAYA KEGIATAN DI DALAM METODE JALUR KRITIS DENGAN PEMROGRAMAN LINIER", JUTEI, vol. 1, no. 1, Apr. 2017.
Authors who publish articles in JUTEI agree on the following rules:
1. The author grants non exclusive royalty free rights, and is willing to publish articles online and complete (full access). With such rights JUTEI reserves the right to save, transfers, manages in various forms, maintains and publishes articles while keeping the author's name as the copyright owner.
2. Each author contained in the article has contributed fully to the substance and intellectual, and is accountable to the public. If in the future there is a copyright infringement notification then this will be responsibility of the author, not JUTEI.