Information System Sales of Custom Aluminum, Glass and Iron Based on a Website Case Study of Family Glass and Steel
Keywords:
waterfall, MySQL, PHP
Abstract
At Family Glass and Steel (FGAS) for ordering still using a manual system, namely by using books and paper, of course this will take time and also frequent errors in order recording and less efficient if it is crowded. There are also frequent out of stock because they forget the existing inventory so they are forced to refuse customer orders. So in need of a cashier system and a better stock of goods in order to improve performance. This system can run the ordering program as well as recording the stock of goods. This system is capable of recording product stock and running an ordering program. Using a website-based system, the waterfall method was used to create this system.
References
R. Kartika, R. I. Afriani, and S. Sihabudin, "… Sales Accounting Information System: Penerapan Aplikasi Qasir Dalam Sistem Informasi Akuntansi Penjualan Tunai Perusahaan …," Indones. J. Econ. …, vol. 1, no. 3, pp. 258–272, 2021.
R. J. Putri, U. M. Buana, Y. M. Putra, and U. M. Buana, "SISTEM INFORMASI MANAJEMEN Pemanfaatan Teknologi Informasi Sistem Pengambilan Keputusan Pada PT . Astarindo Daya Sakti Dosen : Yananto Mihadi Putra , SE , M . Si," no. December, pp. 1–11, 2019.
F. N. Hakim and A. Solechan, "Perancangan Sistem Informasi Penjualan Online Pada Ukm Industri Monel Desa Kriyan Jepara," J. Inform. Upgris, vol. 3, no. 1, 2017.
E. S. Khoirul Lubis Pamungkas, Tri Listyorini, "Rancang Bangun Sistem Informasi E-Commerce Handphone (Studi Kasus Raya Selluler Demak)," Med. Tek. J. Tek. Elektromedik Indones., vol. 4, no. 2, 2023.
V. M. M. Siregar, "Perancangan Website Sebagai Media Promosi Dan Penjualan Produk," TAM (Technology Accept. Model., vol. 9, no. 1, pp. 15–21, 2018.
Y. Prambudia, D. Caesaron, and I. Y. Arini, "Peningkatan Keterampilan Penggunaan Aplikasi E-Inventori dan E-Commerce Masyarakat Desa Sukajaya Cisewu Garut," J. PkM MIFTEK, vol. 1, no. 2, pp. 61–67, 2020.
M. A. S. Alrawi and R. Yusoff, "Examining factors that effect on the acceptance of mobile commerce in malaysia based on revised UTAUT," vol. 20, no. 3, pp. 1173–1184, 2020.
R. A. Setyawan and J. Suwarno, "Scientia Sacra : Jurnal Sains , Teknologi dan Masyarakat Rancang Bangun Sistem Transaksi Penjualan Alat Tulis Kantor Berbasis Web Pada Toko Sentana ATK," vol. 1, no. 3, pp. 105–108, 2021.
J. A. Sihite and M. C. J., "Sistem Informasi Pengelolaan Daftar Kehadiran Dan Jadwal Pembicara Berbasis Website Dengan Mail Gateway Pada Komunitas Jc Bandung," J. Tek. Inform. dan Sist. Inf., vol. 3, no. 2, 2017.
S.- Bakhri, F. Hanif, and A. Haidir, "Rancang Bangun Aplikasi Kasir Penjualan Susu Berbasis Web Pada Alomgada Kids Jakarta," IJCIT (Indonesian J. Comput. Inf. Technol., vol. 5, no. 1, pp. 47–54, 2020.
T. R. Yudantoro, B. Suyanto, and A. U. Chasanah, "Sistem Informasi Manajemen Toko Berbasis Web dengan Menggunakan Barcode Scanner untuk Entri Data," J. Tek. Elektro Terap., vol. 6, no. 1, pp. 10–17, 2018.
S. Nidhra, "Black Box and White Box Testing Techniques - A Literature Review," Int. J. Embed. Syst. Appl., vol. 2, no. 2, pp. 29–50, 2012.
W. N. Cholifah, Y. Yulianingsih, and S. M. Sagita, "Pengujian Black Box Testing pada Aplikasi Action & Strategy Berbasis Android dengan Teknologi Phonegap," STRING (Satuan Tulisan Ris. dan Inov. Teknol., vol. 3, no. 2, p. 206, 2018.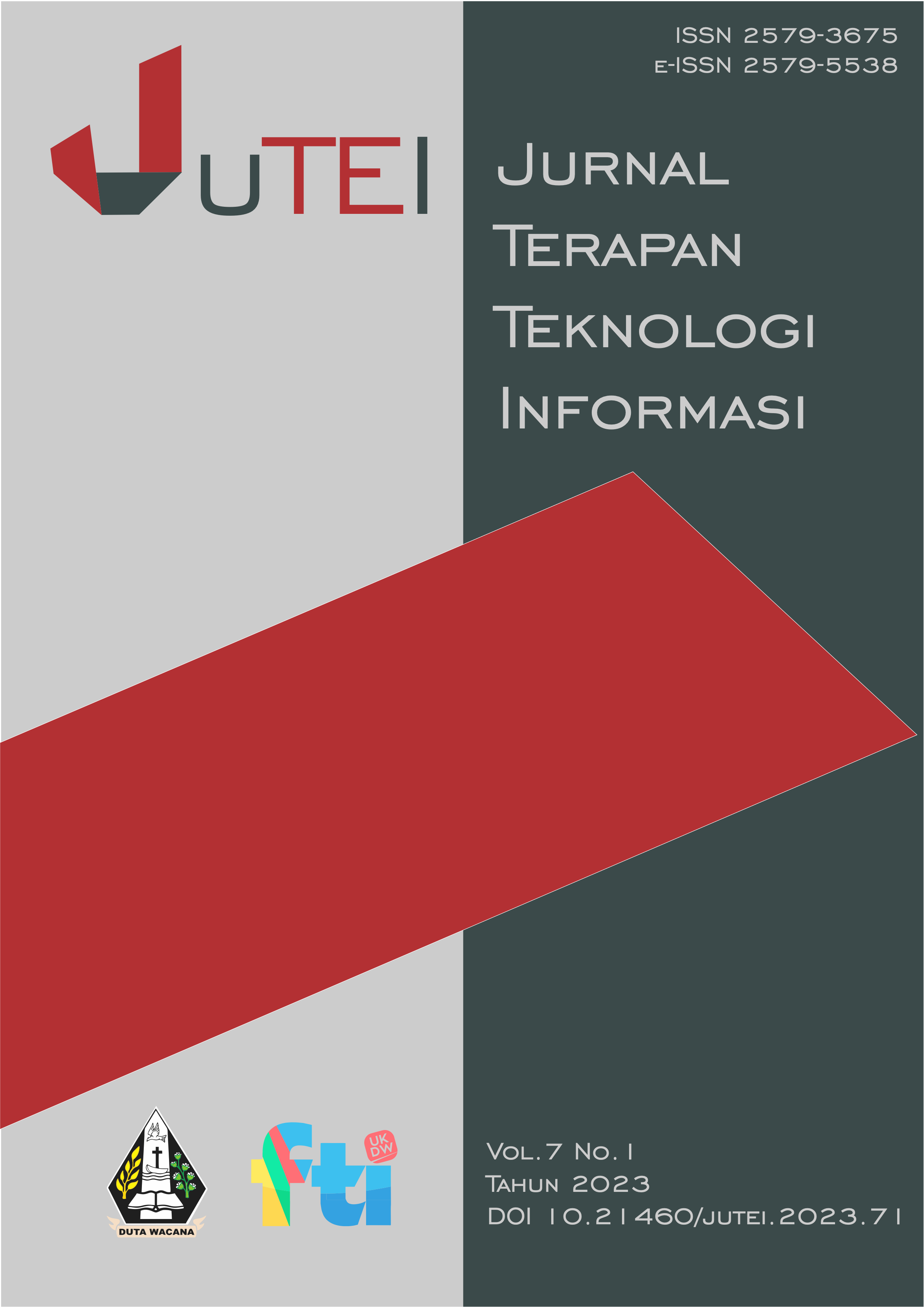 Downloads
How to Cite
[1]
D. Raynaldy, E. Supriyati, and T. Listyorini, "Information System Sales of Custom Aluminum, Glass and Iron Based on a Website Case Study of Family Glass and Steel", JUTEI, vol. 7, no. 1, pp. 1–8, Apr. 2023.
License
Copyright (c) 2023 David Raynaldy, Endang Supriyati, Tri Listyorini
This work is licensed under a Creative Commons Attribution-NonCommercial-NoDerivatives 4.0 International License.
Authors who publish articles in JUTEI agree on the following rules:
1. The author grants non exclusive royalty free rights, and is willing to publish articles online and complete (full access). With such rights JUTEI reserves the right to save, transfers, manages in various forms, maintains and publishes articles while keeping the author's name as the copyright owner.
2. Each author contained in the article has contributed fully to the substance and intellectual, and is accountable to the public. If in the future there is a copyright infringement notification then this will be responsibility of the author, not JUTEI.