Rancang Bangun Aplikasi Point of Sale pada Kedai Kopi Elemen Kopi Berbasis Web
Keywords:
Aplikasi Point of Sale, Rapid Application Development, Black-box Testing
Abstract
The rapid development of the times has caused all aspects of life to always involve technology. With the rapid development of technology, of course it has positive and negative impacts. The positive impact that can be felt is that technology increases the effectiveness and efficiency of humans at work. One example is Point of Sale technology that can help humans in buying and selling transactions from both the customer and business owner sides.This web-based POS application is a computer software designed using the RAD method to help the owner of Elemen Kopi to record transactions, record stock items such as inventory and ingredients, employee management, make sales reports automatically and in real time. The problem faced was that before the existence of this POS application, Kedai Kopi Elemen Kopi still used a manual bookkeeping system that took a long time to record and was not computerized. This causes a high error rate that may occur. The purpose of designing this application is to provide an easy-used POS application to Kedai Kopi Elemen Kopi owners in recording accounting for both buying and selling transactions, expenditure and entry of goods. With this application, it is hoped that it can help record accounting and manage employees.
References
Abdullah, F. (2006). The Development of HEdPERF: a New Measuring Instrument of Service Quality for The Higher Education Sector. International Journal of Consumer Studies, 569-581.
Ariani, S. R., & Shalahuddin, M. (2016). Rekayasa Perangkat Lunak.
Chandra, K. (2019). Rancang Bangun Sistem Informasi Point of Sales Berbasis Website pada Distributor Kain Hoggy Djaya. Jurnal Informatika Universitas Ciputra UC Town Surabaya, 192-200.
Delima, R., Santosa, H. B., & Purwadi, J. (2017). Development of Dutatani Website Using Rapid Application Development. IJITEE, 36-44.
Hariyanto, D., Sastra, R., & Putri, F. E. (2021). Implementasi Metode Rapid Application Development Pada Sistem Informasi Perpustakaan. Jurnal JUPITER, 110-117.
Hutabri, E. (2019). Penerapan Metode Rapid Application Development (RAD) Dalam Perancangan Media Pembelajaran Multimedia. Innovation in Research of Informatics (INNOVATICS), 57-62.
Irnawati, O., & Listianto, G. B. (2018). Metode Rapid Application Development (RAD) pada Perancangan Website Inventory PT. SARANA ABADI MAKMUR BERSAMA (S.A.M.B) JAKARTA. Jurnal Evolusi, 12-28.
Karouw, S., Kojongian, E., & Wowor, H. F. (2017). Sistem Informasi Komoditas Pasar di Kota Manado Berbasis Android. E-Journal Teknik Informatika, 1-6.
Kendall, K. (2010). Analisis dan Perancangan Sistem Informasi.
Khotimah, S., & Sinnun, A. (2021). DESIGN POINT OF SALE (POS) PADA APOTIK CENTURY HEALTH CARE BEKASI BERBASIS WEB DENGAN PENDEKATAN TEORY WATERFALL. Sentra Penelitian Engineering dan Edukasi, 29-33.
Loardy, B. (2010). Aplikasi Point Of Sales Yang Terhubung Dengan Electronic Data Capture.
Maulana, M. S. (2017). Rancangan dan Implementasi Aplikasi Web Point of Sales pada Butik Anak "Galery Freya".Khatulistiwa Informatika, 30-35.
Mishra, A., & Mishra, D. (2013). A curriculum for large scale software development. Software engineering notes.
Moleng, L. (2012). Metodologi Penelitian Kualitatif.
Moleong, L. (2002). Metodologi Penelitian Kualitatif. Jurnal Pendidikan Nasional, 57-60.
Moleong, L. (2013). Metode Penelitian Kualitatif.
Muhajir, M. (2018). RANCANG BANGUN SISTEM POINT OF SALE SEBAGAI PLATFORM USAHA BUSANA MUSLIM ONLINE BERBASIS WEBSITE. Skripsi UIN Alauddin Makassar, 1-82.
Mulyadi, E., Trihariprasetya, A., & Wiryawan, I. G. (2020). PENERAPAN SISTEM PRESENSI MOBILE DENGAN MENGGUNAKAN SENSOR GPS (KLINIK PRATAMA X DI JEMBER). Jurnal Nasional Pendidikan Teknik Informatika, 11-20.
Nidhra, S., & Dondeti, J. (2012). BLACK BOX AND WHITE BOX TESTING TECHNIQUES - A LITERATURE REVIEW. International Journal of Embedded Systems and Applications, 29-50.
Novita, N., Djatikusuma, M. S., & Surdi, E. (2014). PERANCANGAN SISTEM INFORMASI POINT OF SALE (POS) PADA PD TOKYO.
Permana, S., & Faisal. (2015). Analisis dan Perancangan Aplikasi Point of Sales (POS) Untuk Mendukung Manajemen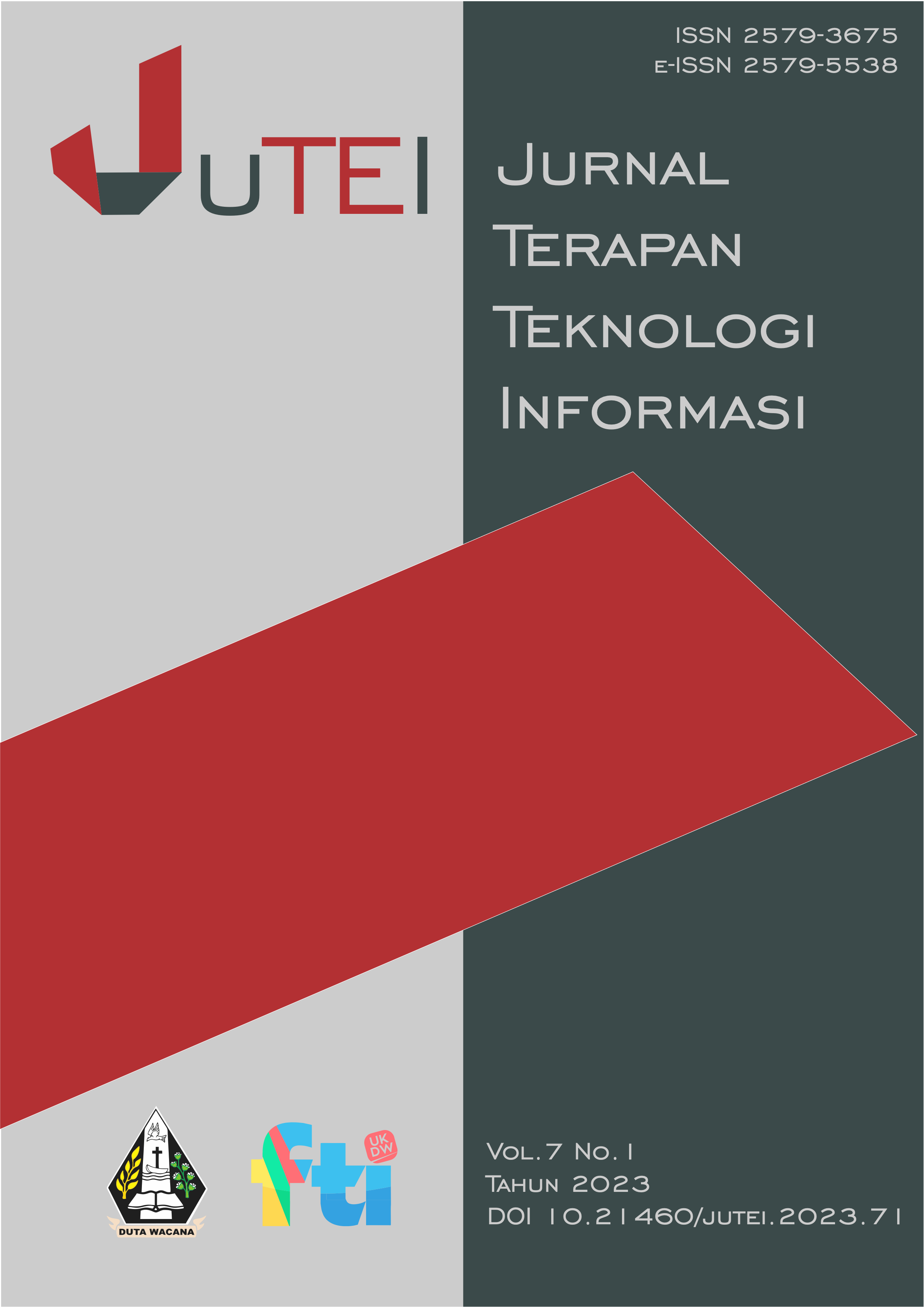 Downloads
How to Cite
[1]
S. Sanjaya Putra, Rosa Delima, and Matahari Bhakti Nendya, "Rancang Bangun Aplikasi Point of Sale pada Kedai Kopi Elemen Kopi Berbasis Web", JUTEI, vol. 7, no. 1, pp. 9–20, Apr. 2023.
License
Copyright (c) 2023 Steven Sanjaya Putra, Rosa Delima, Matahari Bhakti Nendya
This work is licensed under a Creative Commons Attribution-NonCommercial-NoDerivatives 4.0 International License.
Authors who publish articles in JUTEI agree on the following rules:
1. The author grants non exclusive royalty free rights, and is willing to publish articles online and complete (full access). With such rights JUTEI reserves the right to save, transfers, manages in various forms, maintains and publishes articles while keeping the author's name as the copyright owner.
2. Each author contained in the article has contributed fully to the substance and intellectual, and is accountable to the public. If in the future there is a copyright infringement notification then this will be responsibility of the author, not JUTEI.