PERANCANGAN KRIPTOGRAFI BLOCK CIPHER BERBASIS POLA TARIAN DENOK DEBLONG
Yuana Sambadha sambadha

Universitas Kristen Satya Wacana
Keywords:
Block Cipher, Kriptografi, Denok Deblong, S-BOX, Avalance Effect
Abstract
Maraknya cybercrime membuat informasi menjadi tidak aman. IT infrastruktur berupaya dalam menangani hal tersebut, yang salah satunya adalah dengan memanipulasi informasi. Kriptografi hadir sebagai ilmu dalam mengamankan suatu informasi. Untuk meningkatkan keamanannya, kriptografi perlu dikembangkan. Kriptografi Block Cipher Berbasis Pola Tarian Denok Deblong ini dirancang untuk membuat kriptografi baru. Kriptografi ini dirancang menggunakan 4 proses 20 putaran. Di proses ke 4 ditransfomasikan dengan S-BOX untuk mendapatkan ciphertext yang lebih acak Pengujian juga dilakukan menggunakan Avalanche Effect dan nilai Korelasi dimana terjadi perubahan karakter mencapai 49,844%, sehingga dapat digunakan sebagai alternatif dalam mengamankan data.
References
Keamanan Data Harus Jadi Prioritas di Era Big Data Official Web Page, http://www.beritasatu.com/iptek/403822-keamanan-data-harus-jadi-prioritas-di-era-big-data.html (Diakses pada 26 November 2018 jam 18:16:23).
Karinda, Tryanto. (2017). Perancangan Kriptografi Block Cipher 64 Bit Berbasis Pada Pola Formasi Sepak Bola 3-5-2. Jurusan Teknik Informatika, FTI UKSW Salatiga.
Bili, D., Dairo. (2015). Implementasi Kriptografi Block Cipher dengan Langkah Kuda. Jurusan Teknik Informatika, FTI UKSW Salatiga.
Tuhumury, Frellian. (2015). Perancangan Kriptografi Block Cipher 256 Bit Berbasis pada Pola Tuangan Air. Jurusan Teknik Informatika, FTI UKSW Salatiga.
Siswanto, Eko. (2018). Perancangan Algoritma Super Enkripsi Berbasis Pola 8-Queen of Fitness Chess. Jurusan Teknik Informatika, FTI UKSW Salatiga.
Mardika, W. Wayan, I., 2018, Perancangan Kriptografi Block Cipher 256 bit Berbasis Pola Rumah Adat Souraja. Jurusan Teknik Informatika, FTI UKSW Salatiga.
M Munir, R., 2006. Kriptografi. Bandung: Informatika.
Stinson, D. R., 1995, Cryptography: Theory and Practice. CRC Press, Boca Raton, London, Tokyo.
Sugiyono. 2009. "Metode Penelitian Bisnis (Pendekatan Kuantitatif, Kualitatif, dan R&D)". Bandung: Alfabeta.
D.A. de Vaus, Survey in Social Research, 5th Edition (New South Wales: Allen and Unwin, 2002) p. 259.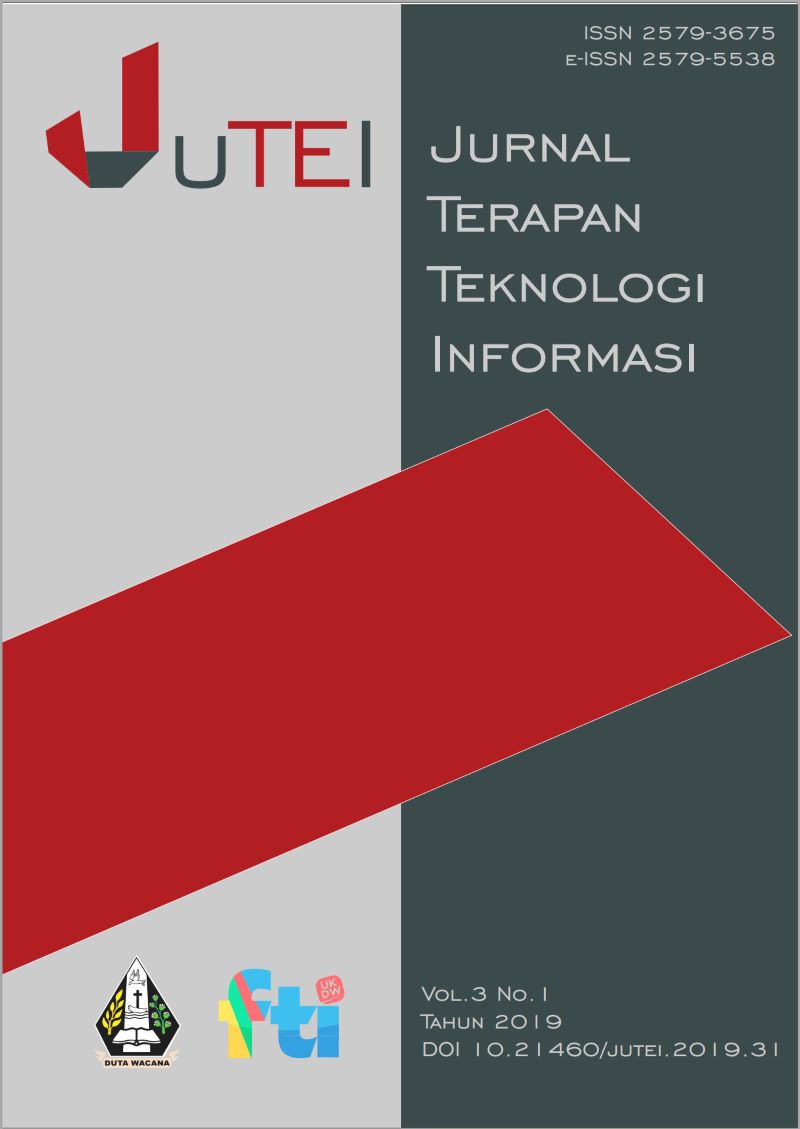 How to Cite
[1]
Y. S. sambadha, "PERANCANGAN KRIPTOGRAFI BLOCK CIPHER BERBASIS POLA TARIAN DENOK DEBLONG", JUTEI, vol. 3, no. 1, pp. 43-51, Oct. 2019.
Copyright (c) 2019 Yuana Sambadha sambadha
This work is licensed under a Creative Commons Attribution-NonCommercial-NoDerivatives 4.0 International License.
Authors who publish articles in JUTEI agree on the following rules:
1. The author grants non exclusive royalty free rights, and is willing to publish articles online and complete (full access). With such rights JUTEI reserves the right to save, transfers, manages in various forms, maintains and publishes articles while keeping the author's name as the copyright owner.
2. Each author contained in the article has contributed fully to the substance and intellectual, and is accountable to the public. If in the future there is a copyright infringement notification then this will be responsibility of the author, not JUTEI.