PENGUKURAN PERFORMA TATA KELOLA TEKNOLOGI INFORMASI PADA PERPUSTAKAAN NASIONAL MENGGUNAKAN FRAMEWORK COBIT 5
Ari Kurnia Setiawan

Universitas Bunda Mulia

Johanes Fernandes Andry

Program Studi Sistem Informasi, Fakultas Teknologi dan Desain, Universitas Bunda Mulia
Keywords:
: IT, IT Governance, COBIT 5, EDM
Abstract
Perpustakaan Nasional Republik Indonesia (Perpusnas) adalah perpustakaan publik yang terletak di Jakarta. Dalam operasionalnya Perpusnas telah menggunakan Teknologi Infomrasi (TI) untuk mendukung kegiatannya, dalam penggunaan TI diperlukan tata kelola yang baik agar TI dapat berjalan selaras dengan bisnis dan memberikan hasil yang diharapkan. Tata kelola TI adalah struktur, proses dan mekanisme yang juga menyertakan pembuatan tujuan sesuai dengan kapabilitas organisasi. Dengan diterapkannya tata kelola TI yang baik maka Perpusnas dapat melakukan alokasi sumber daya yang efisien dan mengukur kinerja yang telah dilakukan.  Dalam penelitian ini kerangka kerja yang akan digunakan adalah COBIT 5, alasan dipilihnya kerangka kerja ini dikarenakan COBIT 5 dapat menyediakan kerangka kerja yang komprehensif yang dapat membantu Perpusnas dalam mencapai tujuannya dibidang tata kelola serta manajemen TInya. COBIT 5 memungkinkan TI untuk diatur dan dikelola secara kesuluruhan dalam organisasi, serta dapat menciptakan keseimbangan antara realisasi manfaat dan mengoptimalkan resiko. Wawancara dan observasi dilakukan untuk pengumpulan data pada penelitian ini yang kemudian dianalisis dan diterapkan pengukuran dengan menggunakan level kapabilitas pada COBIT 5. Berdasarkan analisis yang dilakukan hasil yang didapatkan adalah pada EDM01 mencapai rata-rata level 1, EDM02 mencapai rata-rata level 3, EDM03 mencapai rata-rata level 2, EDM04 mencapai rata-rata level 3 dan EDM05 mencapai rata-rata level 3. Selain itu penelitian ini juga menghasilkan rekomendasi-rekomendasi yang dapat dijadikan refrensi oleh Perpusnas untuk meningkatkan tata kelola TInya.
References
[1] S. Ali dan P. Green, "IT governance mechanisms in public sector organisations: An Australian context," Journal of Global Information Management, vol. 15, no. 4, pp. 41-63, 2007.
[2] UN, "United Nations e-Government Survey 2010," [Online]. Available: http://unpan1.un.org/intradoc/groups/public/documents/UN-DPADM/UNPAN038853.pdf. [Accessed 11 February 2019].
[3] E. N. Nfuka dan L. Rusu, "The Effect of Critical Success Factors on IT Governance Performance," Industrial Management & Data Systems, vol. 111, no. 9, pp. 1418-1448, 2011.
[4] R. Wijaya dan J. F. Andry, "Performance measurement of JP soft application using COBIT 5 framework," Jurnal Ilmiah Teknologi Sistem Informasi, vol. 3, no. 2, pp. 83-93, 2017.
[5] J. F. Andry, "Performance Measurement IT of Process Capability Model Based on COBIT: a Study Case," Jurnal Ilmiah DASI, vol. 17, no. 3, pp. 21-26, September 2016.
[6] M. R. F. V. A. Garzoni, "The impact of an IT Governance Framework on the Internal Control," Records Management Journal, vol. 27, no. 1, pp. 19-41, 2017.
[7] J. F. Andry, "Performance Measurement of Information Technology Governance: a Study Case," Jurnal Sistem Informasi (Journal of Information Systems), vol. 2, no. 12, pp. 56-62, 2016.
[8] A. Arief dan I. H. A. Wahab, "Information Technology Audit For Management Evaluation Using COBIT and IT Security (Case Study On Dishubkominfo of North Maluku Provincial Government, Indonesia)," Proc. of 2016 3rd Int. Conf. on Information Tech., Computer, and Electrical Engineering (ICITACEE), pp. 388-392, 2016.
[9] S. D. Haes dan W. V. Grembergen, "Structures, processes and relational mechanisms for IT governance," Proceedings of the 38th Hawaii International Conference on System Sciences, pp. 1-10, 2005.
[10] Perpustakaan Nasional Republik Indonesia. [Online]. Available: https://www.Perpusnas.go.id/visi_misi.php?lang=id. [Accessed 12 February 2019].
[11] R. Huang, R. W. Zmud dan R. L. Price, "Influencing the Effectiveness of IT Governance Practices through Steering Committees and Communication Policies," European Journal of Information Systems, vol. 19, no. 3, pp. 288-302, 2010.
[12] P. Weill dan J. W. Ross, IT Governance: How Top Performers Manage IT Decision Rights for Superior Results, Boston: Harvard Business School Press, 2004.
[13] S. Ramlaoui dan A. Semma, "Comparative study of COBIT with other IT Governance Frameworks," IJCSI International Journal of Computer Science, vol. 11, no. 6, pp. 95-101, 2014.
[14] Y. Adi dan A. F. Wijaya, "Evaluasi Kinerja Teknologi Informasi Dana Pensiun Sekolah Kristen Salatiga Menggunakan Framework COBIT 5," Jurnal Terapan Teknologi Informasi (JUTEI), vol. 1, no. 1, pp. 71-81, 2017.
[15] A. A. Arens, J. R. Elder, S. M. Beasley and E. C. Hogan, Auditing and Assurance Services An Integrated Approach, 16th ed., PEARSON, 2017.
[16] Rusdiana dan I. Moch, Sistem Informasi Manajemen, Bandung: PUSTAKA SETIA, 2014.
[17] M. R. Stair dan W. G. Reynolds, Principles of Information Systems, Cengage Learning, 2016.
[18] D. U. Setya dan W. Wella, "COBIT 5.0: Capability Level of Information Technology Directorate General of Treasury," International Journal of New Media Technology (IJNMT), vol. 5, no. 1, pp. 18-24, 2018.
[19] I. G. Wahyudi, J. Setiawan dan Wella, "Capability Model of Manage Human Resource And Service Agreement at PT X," International Journal of New Media Technology (IJNMT), vol. 4, no. 1, pp. 54-58, 2017.
[20] D. G. Stephen, The Basics of IT Audit, Syngress, 2013.
[21] C. L. Wilkin dan R. H. Chenhall, "a Review of IT Governance: A Taxonomy to Inform Accounting Information Systems," Journal of Information Systems, vol. 24, no. 2, pp. 107-146, 2010.
[22] W. V. Grembergen dan S. Dehaes, Implementing Information Technology Governance: Models, Practices and Cases, Hershey: IGI Publishing, 2007.
[23] W. V. Grembergen, S. D. Haes dan G. E, Strategies for Information Technology Governance,, Idea Group Publishing: Hershey, 2004.
[24] I. G. Institute, "Board Briefing on IT Governance," Rolling Meadows, 2003.
[25] R. Rooswati dan N. Legowo, "Evaluation Of IT Project Management Governance Using COBIT 5 Framework In Financing Company," International Conference on Information Management and Technology (ICIMTech), pp. 81-85, 2018.
[26] S. Gondodiyoto, Audit Sistem Informasi + Pendekatan COBIT, Jakarta: Mitra Wacana Media, 2007.
[27] ISACA, "COBIT 5: a Business Framework for the Governance and Management of Enterprise IT," 2012.
[28] ISACA, "COBIT 5 Supplementary Guide for the COBIT 5 Process Assessment Model (PAM)," 2012.
[29] P. Octaviyanti dan J. F. Andry, "Audit Sistem Enterprise Asset Management Menggunakan Framework COBIT 5," IKRAITH-INFORMATIKA, vol. 2, no. 1, pp. 34-42, 2018.
[30] E. R. Putri, "Penilaian Kapabilitas Proses Tata Kelola TI Berdasarkan Proses DSS01 Pada Framework COBIT 5," Jurnal CoreIT, vol. 2, no. 1, pp. 41-54, Juni 2016.
[31] ISACA, "ISACA's COBIT Assessment Programme (based on COBIT 5)," 2012.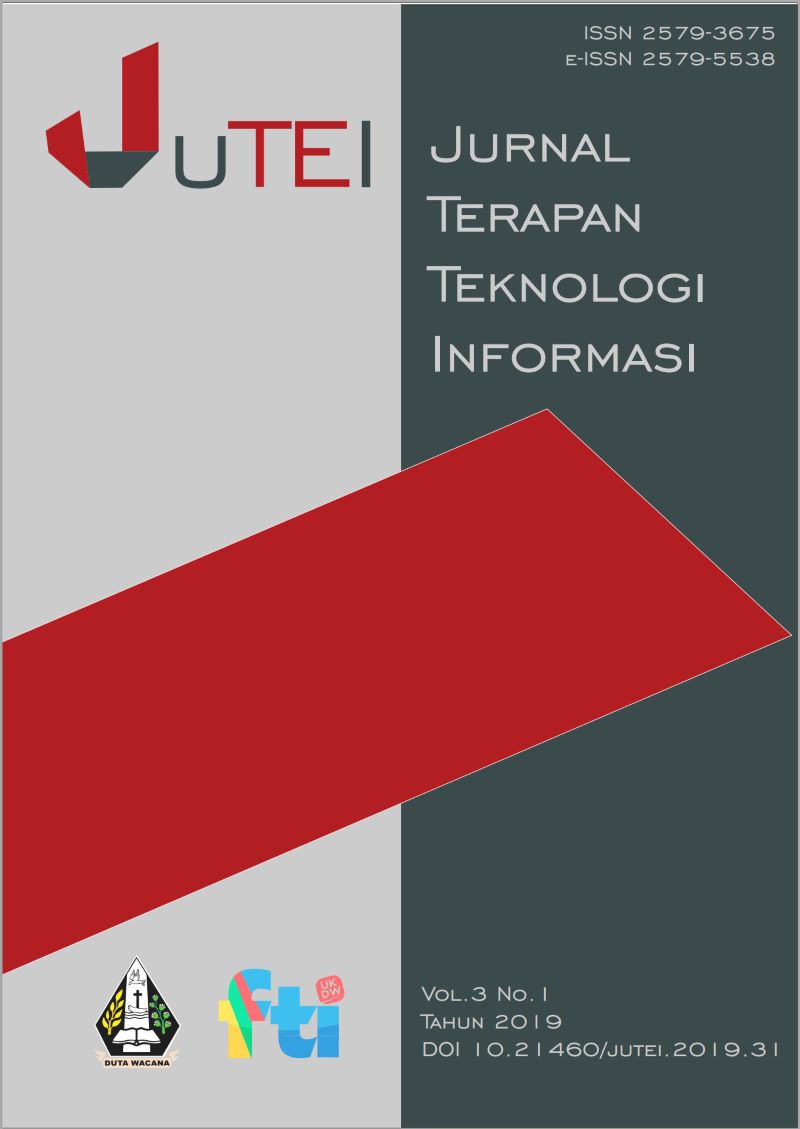 How to Cite
[1]
A. K. Setiawan and J. F. Andry, "PENGUKURAN PERFORMA TATA KELOLA TEKNOLOGI INFORMASI PADA PERPUSTAKAAN NASIONAL MENGGUNAKAN FRAMEWORK COBIT 5", JUTEI, vol. 3, no. 1, pp. 53-63, Nov. 2019.
Copyright (c) 2019 Ari Kurnia Setiawan, Johanes Fernandes Andry
This work is licensed under a Creative Commons Attribution-NonCommercial-NoDerivatives 4.0 International License.
Authors who publish articles in JUTEI agree on the following rules:
1. The author grants non exclusive royalty free rights, and is willing to publish articles online and complete (full access). With such rights JUTEI reserves the right to save, transfers, manages in various forms, maintains and publishes articles while keeping the author's name as the copyright owner.
2. Each author contained in the article has contributed fully to the substance and intellectual, and is accountable to the public. If in the future there is a copyright infringement notification then this will be responsibility of the author, not JUTEI.