IMPLEMENTASI DAN ANALISIS KOMPRESI HYBRID PADA CITRA MEDIS DIGITAL HASIL RONTGEN KANKER PAYUDARA
Keywords:
Compression, Medical Image, Two Dimensional Discrete Cosine Transform (2D DCT), Huffman Transform
Abstract
Kompresi citra digital merupakan upaya untuk melakukan transformasi terhadap data atau simbol penyusunan citra digital menjadi data atau simbol lain tanpa menimbulkan perubahan yang signifikan atas citra digital tersebut bagi mata manusia yang mengamatinya. Tujuannya adalah untuk mengurangi redudansi dari data-data yang terdapat dalam citra sehingga dapat disimpan atau ditransmisikan secaran efisien. Kanker Payudara merupakan kasus kanker terbanyak di Indonesia, dimana penatalaksanaannya membutuhkan banyak sekali data digital hasil rontgen. Penelitian ini dimaksudkan untuk mengompres data digital hasil rontgen kanker payudara dengan ukuran yang lebih efisien tanpa mengubah atau mengurangi informasi serta masih dapat dinilai oleh pandangan manusia (ekspertis). Penelitian ini menggunakan teknik hybrid, yaitu Metode 2D DCT (Two Dimensional Discret Cosine Transform) dan Huffman. Tenaga Medis memberikan nilai 3 dari 4 ketika hasil kompresi mencapai rasio kompresi 34,36% dengan PSNR terbaik sebesar 40dB. Hasil pengujian ini menggunakan kedalaman nilai nol sebesar 0 hingga 3 pada proses kuantsasi 2D DCT
References
[1] Amit S.,Prof Pravin S., Kulkarni.2015.Medical Image Compression Using Hybird Technique.International Journal of Scientific Enginering and Aplied Science (IJSEAS).
[2] Arya, Vivek. Medical Image Compression Using Two Dimentional Discrete Cosine Transform. 2015. International Journal of Electrical and Eletronics Research ISSN 2348-6988 Vol. 3, Issue 1, pp: (156-164).
[3] Irmalia Suryani. 2011 . Implementasi Metode Huffman Sebagai Teknik Kompresi Citra. Malang.Jurnal Elektro ELTEK Vol. 2, No. 2, Oktober ISSN: 2086-8944 Institut Teknologi Malang.
[4] Kementrian Kesehatan RI. 2015. INFODATIN (Pusat Data dan Informasi Kementrian Kesehatan RI): Stop Kanker. Jakarta: Pusat Data dan Informasi Kemetrian Kesehatan Republik Indonesia.
[5] Madhu Ahuja, Sanjivani Shantaiya. 2015. A Review on Image Compression using DCT and DWT. - International Journal for Scientific Research & Development Vol. 3, Issue 10, 2015.
[6] Moh'd Ali Moustafa Alsayyh, Prof. Dr. Dzulkifli Mohamad, Waheeb abu-ulbaa. 2013. Image Compression Using Discrete Cosine Transform and Discrete Wavelet Transform. International Journal of Innovative Research in Computer and Communication Engineering.
[7] Ramandeep Kaur Grewal. Navneet Randhawa. 2012. Image Compression Using Discrete Cosine Transform & Discrete Wavelet Transform . International Journal of Computing & Business Research.
[8] Andika Satyapratama, Widjianto, Mahmud Yunus. 2016. Analisis Perbandingan Algoritma Lzw dan Huffman Pada Kompresi File Gambar BMP dan PNG. Jurnal Teknologi Informasi.
[9] Raras Krasmala, Arif Budimansyah Purba, U. Tresna Lenggana. 2017. Kompresi Citra Dengan Menggabungkan Metode Discrete Cosine Transform (DCT) dan Algoritma Huffman. JOIN.
[10] Sarvarinder S., Er Sarabjit Singh. 2015.Medical Image Compression Using Discrete Cosine Transform. International Journal of Science Reaserch Enginering and Technology (IJSRET).
[11] Yusra A. Y. Al-Najjar, Dr. Der Chen Soong.2012. Comparison of Image Quality Assessment:PSNR, HVS, SSIM, UIQI.International Journal of Scientific & Engineering Research,Vol 3,Issue 8.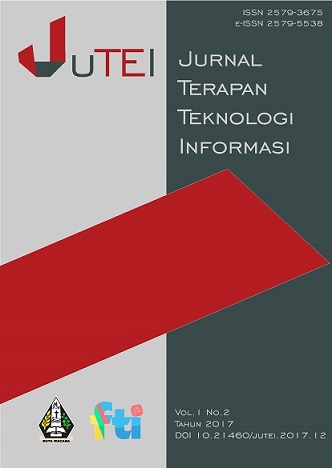 Downloads
How to Cite
[1]
R. H. Hardianto, L. Novamizanti, and A. L. Prasasti, "IMPLEMENTASI DAN ANALISIS KOMPRESI HYBRID PADA CITRA MEDIS DIGITAL HASIL RONTGEN KANKER PAYUDARA", JUTEI, vol. 1, no. 2, pp. 143–153, Nov. 2017.
License
Authors who publish articles in JUTEI agree on the following rules:
1. The author grants non exclusive royalty free rights, and is willing to publish articles online and complete (full access). With such rights JUTEI reserves the right to save, transfers, manages in various forms, maintains and publishes articles while keeping the author's name as the copyright owner.
2. Each author contained in the article has contributed fully to the substance and intellectual, and is accountable to the public. If in the future there is a copyright infringement notification then this will be responsibility of the author, not JUTEI.